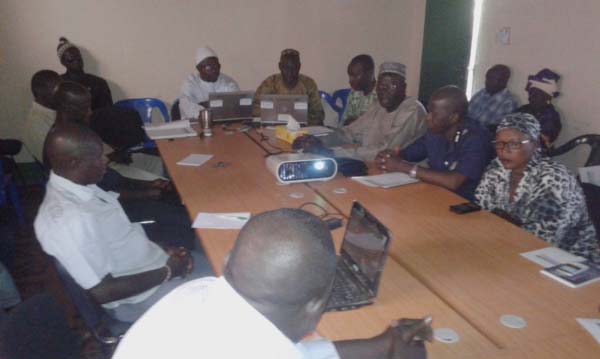 The Food and Agriculture Organisation (FAO) MDG1c project office in North Bank Region recently held the quarterly consultative meeting with partners on the progress and challenges encountered in the implementation of the project in the past two years.
The daylong forum was held at FAO conference hall in Kerewan, NBR.
Through the MDG1c project, the EU seeks to increase household food security and incomes of participating farmers.It also seeks to break the intergenerational cycle of malnutrition and hunger by improving nutrition in school-aged children and increasing community awareness of appropriate nutrition and dietary practices.
Speaking on the occasion, NBR deputy Governor Mustapha Saidy hailed FAO country office for complementing Gambia government's efforts towards attaining food self-sufficiency and poverty reduction.
He pointed out that the establishment of vegetable garden in Nuimi Lamin and Konteh Niji, and fertilizer for the 35 communities would contribute immensely to the country's food security and nutritional supplementation.
Kebba Sarr, MDG1c field coordinator for NBR, said the project has provided over D13,899 million for the establishment of vegetable garden in Nuimi Lamin and Konteh Niji including drilling of boreholes, erecting overhead tanks, building water reticulation systems, etc.
He said fertilizers and seeds were given to farmers on time to enhance timely planting and by extension boost vegetable production.
Mr Sarr noted that the MDG1c project has increased smallholder household income due to improved post-harvest practices and expanded market opportunities.
Through the marketing strategy of the project, 60 Farmer Field Schools were trained on the use of weigh scales to avoid losses and determine price for the produce.
Njaga Khan, regional community development officer for NBR, called on beneficiary communities to sustain the project so as to bring about sustainable livelihood development.
He lauded the project for building the capacity of community-based organisations on group management and project management.
Omar Mendy, agricultural officer for NBR, also commended the MDG1c project for supporting the Department of Agriculture and strengthening farmers on agronomic practices and effective marketing of farm produce.
Momodou Darboe, acting Regional Livestock Director, called on farmers to desist from the use of chemicals on crop residues, saying it affects livestock and small ruminant production.
Bai Jassey of Kerr Jarga Jobe applauded FAO for strengthening farmers' capacity on food production, good governance and public accountability of community resources.
Mr Jassey appealed to FAO to support his community with coos thresher, saying the availability of the machine would avoid post-harvest losses and increase farmers' income.
Read Other Articles In Article (Archive)