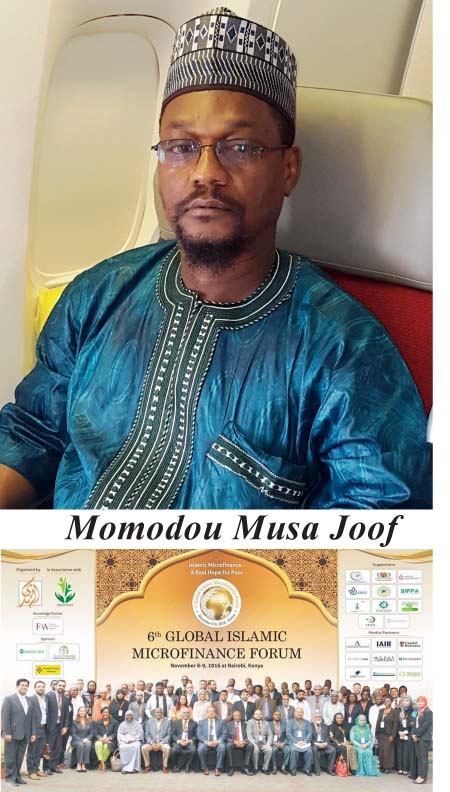 Momodou Musa Joof, a veteran insurer who founded and served as the maiden managing director of Takaful Gambia, the first Islamic-complaint insurance company in West Africa, has been awarded 'The Best Rising Islamic Microfinance Personality Award'.

By this award, Mr Joof, who is now the managing director of Jaiz Takaful Insurance Plc in Nigeria, is certified as the Best Takaful Contributor for 2016, according to the award citation.
He was given the awarded at the just ended 6th Global Islamic Microfinance Forum (GIMF) organised by Alhuda Centre of Islamic Banking and Economics in Nairobi, Kenya.
GIMF is an annual apex gathering of Islamic microfinance, Takaful, Islamic banking, rural finance, funder/ donor agencies, multilateral organisations and other allied sectors of microfinance. The big heads in these fields meet during the forum to address poverty problems and solutions through Islamic microfinance.
Meanwhile, Mr Joof's insurance company is part of a parent body called JAIZ Foundations in Nigeria, established by the first non-interest bank in Nigeria, Jaiz Bank Plc.
Three subsidiaries of the foundation – Jaiz Charity and Development Foundation, Jaiz Takaful Insurance Plc, Jaiz Zakat and Waqf Trust Fund and El Jaiz Investment and Services Limited – have won awards at the high-level forum.
The awards are 'Lifetime Achievement Award' bestowed on the chairman of Jaiz Foundation, Alhaji (Dr) Umar Abdul-Mutallab, CON; 'Best Corporate Social Responsibility Award' to Ambassador Adamu Babangida Ibrahim, director general/CEO, Jaiz Charity and Development Foundation, and 'The Best Rising Islamic Microfinance Personality Award' was awarded to the Managing Director of Jaiz Takaful Insurance Plc, Momodou Musa Joof.
Jaiz Foundation was established as nonprofit, non-governmental charitable organisation in April 2012 to act as a corporate social responsibility implementing agency of Jaiz Bank Plc, among other core areas of charitable and other sectoral interventions.
A statement from the foundation said they deemed it fit to invest in Shariah compliant ventures such as the established Jaiz Takaful Insurance Plc, and El-Jaiz Investments and Services Ltd for reasons including sustainability of its core functions.
Jaiz Takaful Insurance Plc, incorporated in January 2014, was established to transact family Takaful and the Halal option of pension schemes. It also transact in all classes of non-life insurance such as marine, fire, motor, accident, aviation, engineering, property, oil and gas, health, micro-insurance, among others.
Meanwhile, before going to Nigeria after resigning from his baby company, Takaful Gambia, Mr Joof was in Zambia where he established the Takaful Window for Phoenix Assurance of Zambia and served there as chief operations officer.
With more than 26 years' experience in insurance industry at different levels, Mr Joof had served at various positions in many professional associations such as the Insurance Association of The Gambia (treasurer), Ecowas Brown Card (vice president), and the Gambia Medical Underwriters Committee (chairman).
He had also served as visiting lecturer at the West African Insurance Institute, and was a resource person at many international Takaful conferences such in London and Dubai in 2012 and 2013, respectively.
Read Other Articles In Article (Archive)