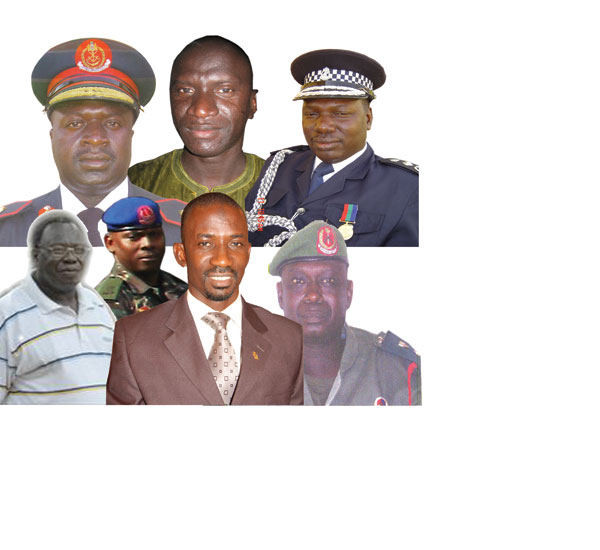 Jailed former Chief of Defence Staff of the Gambia Armed Forces, five other senior security officers and a local businessman, convicted for treason and sentenced to death by the high court in Banjul in 2010 yesterday appeared before the Supreme Court in Banjul.
Lang Tombong Tamba, former CDS, Omar Bun Mbye, former Director of Operations and Training at GAF, Lamin Bo Badjie, former chief of the NIA, Modou Gaye, former deputy Inspector General of Police, Gibril Ngorr Secka, former Gambia's deputy ambassador to Guinea Bissau, Kawsu Camara (alias Bombardier) former Commander of Kanilai Camp and Abdoulie Joof, a local business tycoon, appeared before a seven-member panel of judges to hear an appeal filed against their conviction.
When the case was announced, Lawyer Sherriff Marie Tambadou notified the court that he had filed briefs on behalf of the appellants on 20 March 2012, and a brief of argument.
He told the court he had served a copy to the Director of Special Litigation, Daniel O. Kulo.
The deputy director of Special Litigation, Simon Abi, told the court he had seen the copy of the argument but he needed time to reply.
The case was then adjourned till 25 June 2012, for address.
It would be recalled that the appellants were sentenced to death by the High Court in Banjul on treasonable indictments on 15 July 2010.
They later filed an appeal at the Gambia Court of Appeal on 6 December 2010, a case that was dismissed on 11 May 2011.
Read Other Articles In Article (Archive)