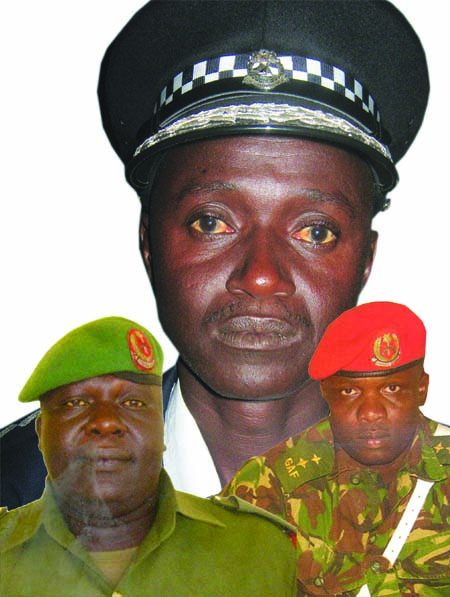 Major Kuluteh Manneh, former commander of the military police, yesterday tendered his inner-shirt as a defence exhibit, after he alleged that it was stained with blood as a result of the tortured inflicted on him at the NIA conference hall in Banjul.
Manneh made this allegation while continuing his evidence-in-chief in the case involving him, former police chief Ensa Badjie and Lt. Col Mam Matarr Secka, at the Special Criminal Court in Banjul.
The Director of Public Prosecutions, S.H. Barkun, objected to the tendering of the inner-shirt of the accused person, but his objection was overruled by the trial judge.
The court admitted the inner-shirt and marked it as an exhibit.
Major Manneh told the court that when he was leaving the NIA conference room, he saw the 2nd accused, Lt. Col Mam Matarr Secka, being led by NIA officers into the same conference room where he (Manneh) was tortured, and was later escorted back to Mile 2 State Central Prison.
He denied meeting Edurisso Masade PW6, and told the court that the first time he saw Masade was on 2 November 2009, at the Kotu Police Station.
Manneh further denied that Sillaba had ever called him on the phone to go and answer to him, adding that this was a fabricated story by Edurisso to escape from being charged with giving false information.
Still testifying, Manneh told the court that Nema Ceesay had never given him a packet of tiles, and that this was another fabricated lie, since there is no piece of tile in his compound, or broken tiles in his house.
At Kotu Police Station, there was an allegation that Sillaba used to go round town telling people that the President had given him drugs for sale, and that the three of them were serving as his bodyguards.
Manneh added that the cassette which was played at the police station did not capture his name, or his voice.
The case continues on 9 July 2012, for cross-examination.
Read Other Articles In Article (Archive)