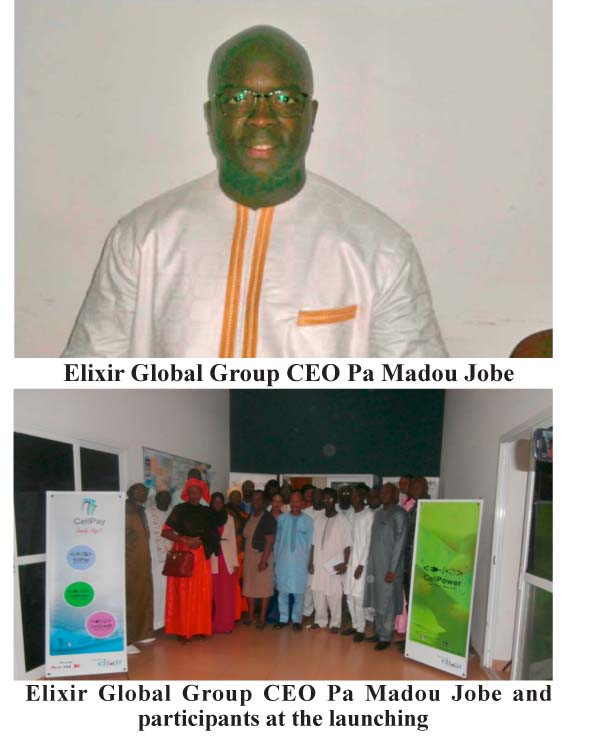 An information technology service provider Elixir Global Group has launched an innovative cash power vending and bill payment service designed to benefit everyday buyers of cash power, individuals with web & mobile App and companies such as hotels, banks, gas stations, offices, and factories.

Dubbed CellPower, the service has three components or platforms which include the targeted market, account setup, and payment options.
The bill payment service, on the other hand, is utilised via SMS, smartphones apps and the Internet (Web Browsers).
According to the Chief Executive Officer of Elixir Global Group, which promotes energy, agriculture and technology, the rationale behind coming up with such services has several facets.
CEO Pa Modou Jobe, who was speaking at the GCCI Kerr Jula Secretariat, where the product was launched on Friday 18 August, said: "Cash Power offices still have long queues even with the possibility of SMS vending. That is mainly because of its restriction to certain mobile networks."
He said the service would also make cash power available and accessible 24/7 and it can have more accessibility channels, in addition to saving consumers' time, and ridding them of the inconvenience and the cost of traveling to and from NAWEC offices.
Furthermore, the service also helps to cut down NAWEC's high overheads such as administrative and operational cost savings, he said, adding that it improves efficiency through relevant information while letting NAWEC still being prepaid, under a minimal carbon footprint to prove its environmentally friendliness.
Mr Jobe said the service can be accessed and utilised by leveraging of widespread SMS technologies (SMPP/APIs), to build a NETWORK BLIND vending system; leveraging of web and internet technologies; leveraging of NAWEC's Cash Power servers by way of an interface through a VPN & IP, developing of multiplatform mobile apps, and leveraging of the GAMSWITCH payment clearing platform, branded cards, and other payment methods.
He said further that the target market includes everyday buyers of cash power between D30 and D100; individuals with Web & Mobile App; and purchasers of D100.00 to D5,000.00, as well as companies such as hotels, banks, gas stations, offices, and factories.
He also said all are encouraged to join Elixir Group to be able to utilize their service.
Veering onto the BillPay Service, CEO Jobe said: "Postpaid bills will be collected from NAWEC's current billing system as CSV files after they have been generated.
"We will load these file into our system. We will create a registration process for postpaid bills that will identify the customers with their unique customer IDs. Customers can then see their new bills from our system, and they can then pay for the bills using our various payment options. At the end of the day we will reconcile the paid bills with the NAWEC billing system and NAWEC will update their records accordingly."
Mr Jobe thanked the Management of PURA for "the positive and proactive response" to their request as well as their partners such as NAWEC, FiBank and other institutions.
In his remarks on the occasion, the Chief Executive Officer of Gambia Chamber of Commerce, Industry and Employers Association (GCCI), Alieu Secka called on all and sundry to celebrate the success story of Elixir Global Group, which is run by young Gambians, who starte the company few years ago from a small beginning to have reached such a height .
He therefore called on people to support Gambians with innovative business ideas to realize their dreams and be able to set up viable businesses that will benefit not only them but also those who will gain employment from their establishments and help to boost the national economy.
The GCCI CEO also urged the management of Elixir Global Group to persevere in their business operation and continue to strive to compete in delivering best services to the people. "Elixir should endeavour to give us better service," CEO Secka said.
In his remarks on the occasion, Mr Abdou Jobe, former Minister of Trade, commended Elixir's CEO, the management and staff for coming up with simple but highly beneficial electronic cash power vending and bill payment services to people in The Gambia.
"We need to support them, we need to support each other in their business drive," he said, adding: "Elixir has performed for others to thrive on. We therefore have a moral responsibility to support our own businesses."
The services will be up and running today, as stated by CEO Pa Modou Jobe, who said all are encouraged to join and utilise Elixir's services.
Read Other Articles In Article (Archive)