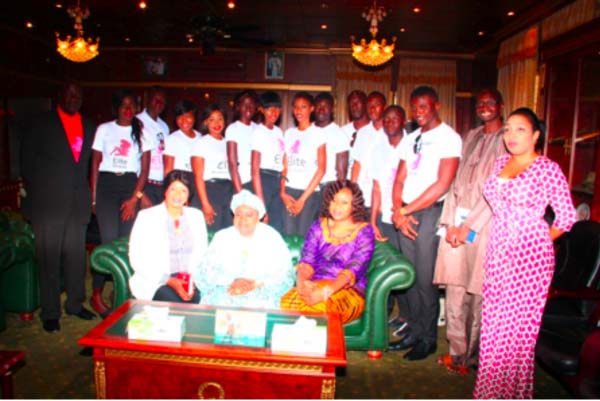 Fatoumatta Coker-Jallow, proprietor of Elite Modeling Agency, has called on all modeling agencies in the country to come together as one and work for the betterment of the industry.
She said Elite couldn't be the only agency operating in the country, "as in life if you do not have competition you will not go further".
Her doors are open to any agency that wants to partner with her for the development of the industry in the country, she says, adding that those that are ready to open agencies could also join hands with her to work together.
Madam Coker-Jallow made these remarks recently at a press conference organised by models at Elite Modeling Agency after meeting with H.E. Dr Aja Isatou Njie-Saidy at State House to discuss the modeling industry in the country.
A former model, Fatoumatta stated that during their time they didn't have the opportunities models now have. She therefore called on models in the country to be committed and value themselves and their work.
She wants to see Gambian models achieve what she couldn't, she said, while expressing her readiness to support and guide them all the way.
"It is shameful being in something and having nothing to show for it," she said, calling on models to value and respect themselves for others to respect them.
She also called on models in the country to show professionalism, as some models signed by agencies would not respect themselves or the job.
She therefore appealed to models to behave professionally.
"In some countries models are seen as ambassadors and even sent on assignments by their Governments. Why can't we have that?" she expressed concern.
"The Gambia may be small but blessed with so many beautiful people," she added, saying: "We should utilize it and show what we have.
"Why do we always have to maintain that we are a dot on the African map? We are no more a dot; we have a voice."
She also spoke about how models are treated and receive less for their service.
"No one should take models outside the country without going through an agency, as it is wrong," she remarked.
The Elite Modeling Agency proprietor also called on all models to unite and agree on the same charging price to do jobs for designers.
"We are human beings and have responsibilities," she said, while thanking the Gambian President and the Vice President for giving them the chance to meet them twice within a short time, "which is rare".
In her remarks, Fatima Jobe, a former Gambian model, thanked the Elite Modeling Agency proprietor for her vision and support for Gambian models and the industry as a whole.
Read Other Articles In Article (Archive)