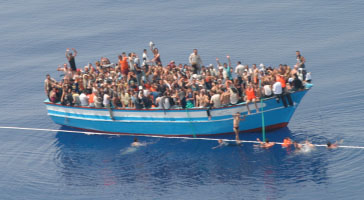 International Organisation for Migration (IOM), in partnership with the National Youth Council (NYC), is intensifying efforts to curb irregular migration with a new nationwide project called Migration Resource and Respond Mechanism (MRRM).
The one year project targets back-way returnees in the rural areas as well those at risk of embarking on the journey.According to the project design, the target beneficiaries will be directly engaged in community livelihood activities coordinated by the central and local authorities.
Project officials said the project will mitigate the impacts of irregular migration, foster stability and enhance community development through income generating activities and community projects.
As part of the project, a joint team of IOM and NYC officials recently embarked on a five-day countrywide consultation tour to engage local authorities and youth leaders about the new project.
They also visited selected youth project sites with the aim of supporting at least one project in each region of the country.
Alagie Jarju, programme manager of NYC, said the purpose of the countrywide tour was to have regional consultation with authorities and youth on the new IOM project.
He said the project started with a pilot face in Kombo and Kanifing Municipality with returnees from Niger and other North African countries as well as those at risk of embarking on the journey.That project is finished and a new one has started.
Mustapha Saidy, deputy governor of North Bank Region, said irregular migration is an issue that needs to be address as soon as possible.
The journey, which he described as 'disaster way', has taken so many lives and most of them are young people, saying the IOM project is timely and hope that it will reduce the issue of irregular migration.
Famara Njie, reintegration assistant at IOM Gambia office, said the 12 month project will be implemented across the country, saying each of the regions will have its own share of the project.
Sulayman Saho, a member of Operation No Backway to Europe, said a lot of projects have been implemented in NBR to encourage youth to be self-reliant by developing their skills to make a living.
"Such projects, like the IOM project, are sustainable," he said.
Read Other Articles In Article (Archive)