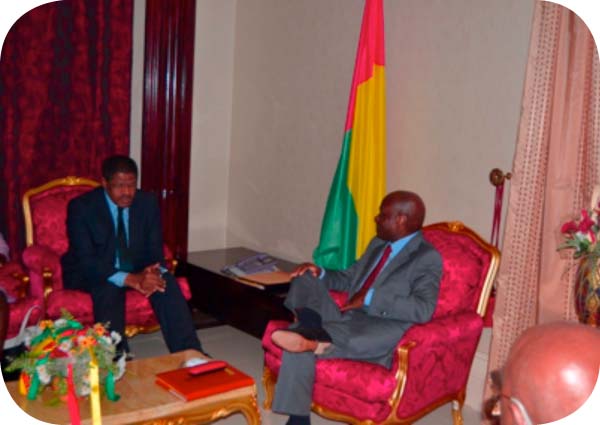 The President of the ECOWAS Commission, His Excellency Marcel de Souza paid a two-day visit to Guinea Bissau from 14th to 15th August 2016. During the visit, President de Souza met with the Minister of Foreign Affairs, Soares Sambú, and paid courtesy calls on the Prime Minister Baciro Dja, the Speaker of the Parliament, Cipriano Cassamá and the President of the Republic, José Mário Vaz.

President de Souza's visit to Guinea-Bissau came at a moment that the country is stalled in institutional crisis among the Republic's main institutions which has led to lack of dialogue among the main political stakeholders, with deep impact on the people's daily life. The Program of the Government and the State Budget bill are yet to be approved by the National Parliament which is completely divided.
The President of the Commission urged the authorities in Guinea-Bissau to do their best to ratify the ECOWAS protocols, especially the Protocol on Free Movement of People and Goods. President de Souza added that the foundation of the Community is linked to the ideal of the free movement of citizens within the Region. President de Souza also discussed with the Country's leadership on a number of other issues, among which is the Community Levy arrears. He urged the financial authorities to address the issue and to honor the country's commitment by approaching the Commission and reschedule the payment plan.
The President of the Commission was deeply briefed on the ECOWAS Mission in Guinea-Bissau (ECOMIB) and was pleased to see the contribution of ECOMIB in the stabilization of the country. However, Mr. de Souza informed the national authorities on the decision of the ECOWAS Heads of State and Government during the last Summit in Dakar on the 4th of June, 2016 to end the Mission within a year, hence the need to immediately train the Country's defense and Security forces within six months to adequately equip them to maintain stability and ensure the security of lives and property in Guinea-Bissau.
The President of the Commission took advantage of the visit to introduce the new Permanent Representative of the President of the ECOWAS Commission to Guinea-Bissau Mr Blaise Diplo to the Authorities.
Read Other Articles In Article (Archive)