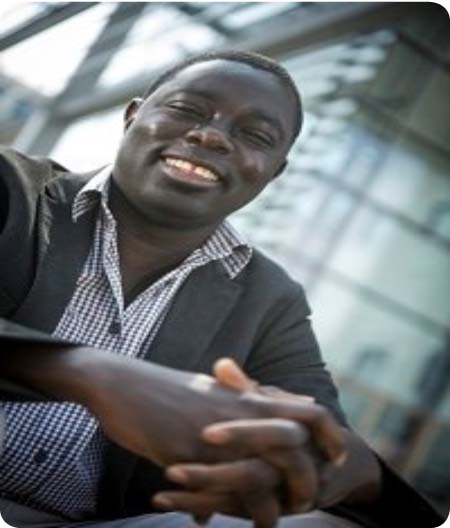 The Higher Education Academy (HEA) on 27 June 2013 named De Montfort University (DMU) Lecturer Dr Momodou Sallah as the recipient of a National Teaching Fellowship - the most prestigious awards for excellence in higher education teaching and support for learning.
Only 55 successful National Teaching Fellows (NTFs) were chosen from over 180 nominations submitted by higher education institutions across England, Northern Ireland and Wales.
Each will receive an award of £10,000 which will be used to support their professional development in teaching and learning.
Dr Sallah, who is a Senior Lecturer in DMU's School of Applied Social Sciences, is the 16th DMU academic to receive a National Teaching Fellowship since the scheme began in 2000 – the second highest total nationwide.
He teaches on the undergraduate and postgraduate programmes at DMU, leading on the Theory and Practice of Youth Work; Theory and Practice of Community Development; and Global Youth Work modules.
Dr Sallah has more than 20 years' experience working with young people at local, national and international levels and was the Youth Director of Gambia Red Cross Society and a Senior Youth Worker at Leicester City Council.
On receiving the award, Dr Sallah said: "I'm highly honoured to be named as a National Teaching Fellow. This award is really a reflection of the work of colleagues across De Montfort University to ensure the very highest standard of teaching on our courses.
"I passionately believe in recognising the relationship between learning and practice, and constantly look for ways to take the classroom into the real world. It's in this way that the student learning experience is enhanced and our graduates learn the skills that will give them success beyond the campus boundaries."
As an example of his groundbreaking approach to teaching, Dr Sallah has instituted a regular annual study visit to The Gambia for his students to explore the impact of globalisation and global inequality in developing countries.
In 2012, he worked with current and former students to set up Global Hands (www.global-hands.co.uk), a social enterprise which aims to tackle issues of local and global inequality through community engagement.
Dr Sallah's research interests include diversity, participation and globalisation in relation to young people, and it is this research which informs his teaching.
He has organised many national and international conferences bringing academics, students, policymakers and practitioners together to maintain a constant dialogue between theory and practice.
Professor Craig Mahoney, Chief Executive of the HEA, said: "Becoming a National Teaching Fellow is a great honour and will undoubtedly lead to many new and exciting challenges, but I believe that it is students who will benefit most from these awards.
"Our students deserve the best possible learning experience and it is colleagues like those we celebrate today who can make a real difference to their futures. I congratulate all the successful Fellows and wish them every success in their own learning and teaching experiences."
Read Other Articles In Article (Archive)