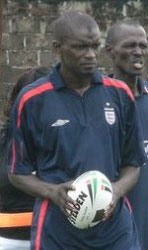 Defending Super Nawetan Champions, Lamin, on Tuesday suffered a 1-nil defeat in the hands of Banjul in their opening game of the competition played at the Banjul Mini Stadium.
Ebrima Camara scored the only goal of the game for Banjul in the 26th minute of the game from a powerful shot to give his side their first 3 points of the competition.
On the same day, Barra, Essau and Mayamba (BEM) drew 1-1 with Manjai at the Serrekunda West Mini Stadium.
Assan Jangum opened the score for Manjai in the 14th minute but his goal was cancelled by Assan Njie for BEM ten minutes later thus the game ended 1-1.
Speaking to reporters shortly after the game, Lamin Kebbeh, head coach of Banjul, said the game was not a difficult one for his side because they prepared well for it.
He stated that they have learned from their last year's mistake when Lamin eliminated them from the competition to emerge victorious, using some tactics they prevented them from applying this time around.
They wanted to expose the young players in Banjul by giving them a chance to play in the super nawetan competition since Banjul is full of young talented players, he said, adding that it was difficult to select a squad but they picked the players they felt could give them the results they needed.
Yahya Manneh, head coach of Lamin, said the game was well-contested but blamed the central referee for his side's defeat.
He stated that the referee did not show fairness during the game because a Banjul player handled the ball inside Banjul's eighteen yard box but the referee failed to award them a penalty.
Banjul scored against them through a mistake they made but his side played very well, he said, noting that his side is made up of young players that are pushful.
He remarked that the fixture is not in their favour as defending champions since they have to be meeting all their opponents in their own grounds, even though they do not have a standard playing ground.
This is just the start of the competition, he stated further, saying they are optimistic of going far in the competition.
He said as champions, not being also given their winners money also had a cause in their defeat."They have to tell us the reality because football deals with money," he added, saying this is hampering his team's performance because they were only given a trophy.
Read Other Articles In Article (Archive)