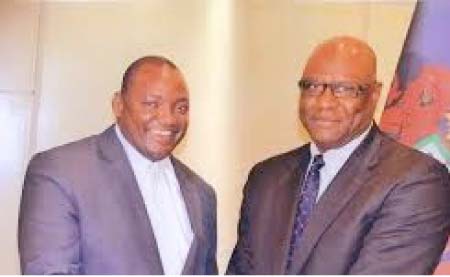 The minister of Defence has lavished praises on President Adama Barrow as being the first president to institute National Security Policy since The Gambia gained independence in 1965.

Sheikh Omar Faye, who had an exclusive interview with The Point, disclosed that several other policies such as defense, immigration policies are in the pipeline. He added that all these are geared towards maintenance of peace and stability in the country.
Faye reminded that security should be everybody's business. "Without a comprehensive national security system put in place, there will be no meaningful development," he argued.
He urged Gambians to embrace the development strides of the government and continue to enjoy the peace and tranquility with respect to human right, rule of law and dignity.
On Security Sector Reform, the defence minister said the process is putting measures in place to restructure the entire security sector. "This does not preclude in house restructuring," he added.
According to him the Ministry of Defense is responsible for determining the overall guidelines for national defence, citing supervising the activities of the Armed Forces and implementing Defence policies and strategies. He said the ministry should therefore lead every restructuring effort in the GAF. "Consequently, the ministry must initiate some restructuring in order to maximise resources utilization and show signs that it is in support of the national reform agenda."
Defence Minister Faye alluded to the recent concluded 33rd Ordinary Session of the Assembly of the African Union that was held from 9th to 10th February 2020 in Addis Abba. He said the Gambian delegation attended the AU meeting and headed by the vice president of the Gambia.
He described the meeting as very successful as it was centred on the theme of silencing the Gun; creating conducive condition for Africa's development. He described the theme as very fitting as far as peace and stability is concerned. He thus seized the opportunity to appeal to Gambians to exercise patience as restructuring cannot take overnight. "It is process and things are at the final stage."
Read Other Articles In Article (Archive)