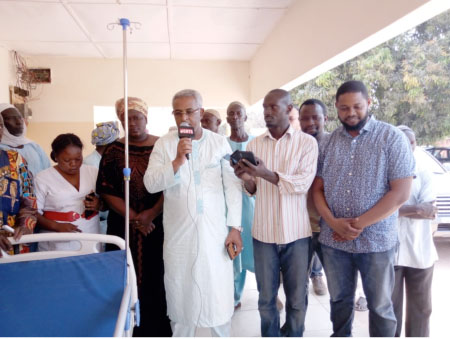 Nessim Fishing Company, operating in Sanyang in the Kombo South District of the West Coast Region over the weekend donated medical equipment worth about D1.5 million dalasis to Sanyang Health Centre.

The medical items include:25 standard hospital beds, 25 fans and air conditions among others. Beneficiaries said the donated items were among the top challenges affecting the health centre for the past years.
Speaking at the presentation, Ahmed Menane, the Chief Executive Officer (CEO) of the company, said it's part of their social responsibility to give back to the community where they are operating, adding that the donated items will strengthen the health care system of the health centre.
He pointed out that the government alone cannot provide all the medical equipment that the country's health sector needs, adding that's why his company decided to complement government's effort in helping the beneficiary health centre.
CEO Menane expressed optimistic that they will continue supporting the health centre and the community itself.
Tida S. Kinteh, the officer in-charge of the health centre, underscored the importance of the donated materials, saying; "lack of standard hospital beds were among the problems facing. We in fact find it difficult to admit some patients in the health centre due to the fact that the beds that we have were old."
The government, she added, is committed in providing quality health services delivery to the door step of every Gambian. However, she was quick to add that they can't do it alone, as there is need for continuous support from individuals, company and philanthropists.
"It's a great honour for us to receive this item from the donor. Today, we are receiving 25 complete beds which are up to standard. I can tell you that these are the kind of beds that every hospital in the country needs."
Rehabilitation of the drug store, she added, is also a challenge, as she urges the fishing company to intervene, saying; "we don't want the drug store to be affected by termites."
Lamin Bojang, VDC secretary and Lamin Jabang on behalf of the village alkalo, both hailed Nessim Fishing Company for their continuous support to the development of the village.
Read Other Articles In Article (Archive)