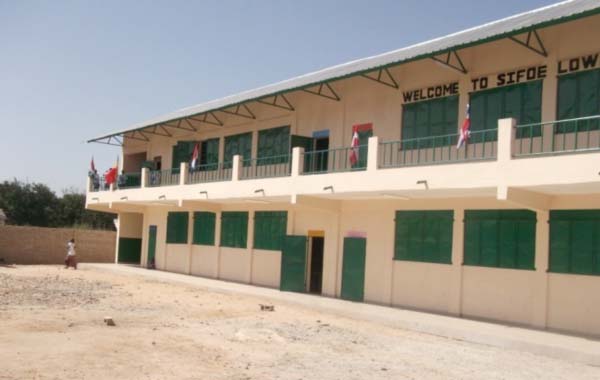 An eight-classroom storey building reportedly worth more than D15 million was inaugurated and handed over to the Sifoe Lower Basic School on Saturday.
The building includes a computer lab, library, hall, two stores, two offices and four toilets for staff.
It was constructed through a project funded by a Dutch couple, Jan and Maureen Schouten, from The Netherlands.
The project also included an additional construction of a standard kitchen, a borehole, and twenty toilets for the pupils, as well as a general maintenance of the entire existing structures in the school.
In his inaugural statement, Baboucarr Boye, permanent secretary, Ministry of Basic and Secondary Education, thanked the funders for the gesture, saying it was welcomed and appreciated by the ministry and the Gambia government.
He said education should be the foundation for the development of human beings.
He said it is the belief of his ministry and the government that education is the tool to lift people out of poverty.
In this vein, since 2013, the government started removing "all unnecessary levies" on school-going children and has now introduced free education for students from Grade 1 to 12, PS Boye said.
"This had lifted the burden from parents," he said."If the structures are erected and parents could not afford to send their kids to school, then there would be not many children to occupy those structures.But with the introduction of free education, children have the opportunity to go to school without paying any school levy."
Jan Schouten, project sponsor, thanked all those who contributed to the construction of the buildings.
He added that the building of the structures would help in improving children's education through providing them with the conducive environment.
The Dutch national said they are happy to contribute their quota to the improvement of children's education in The Gambia.
Sunkary Sanyang, headmistress of the school, thanked the Dutch donors for the gesture, saying it would help them to provide education to the students in an environment good for teaching and learning.
She said the computer lab would help the students to have a basic knowledge of information communication technologies (ICTs).
Ellen Meulenveld, chairperson of Gamrupa Europe, thanked the sponsors for their love of children and concern for education in The Gambia.
Read Other Articles In Article (Archive)