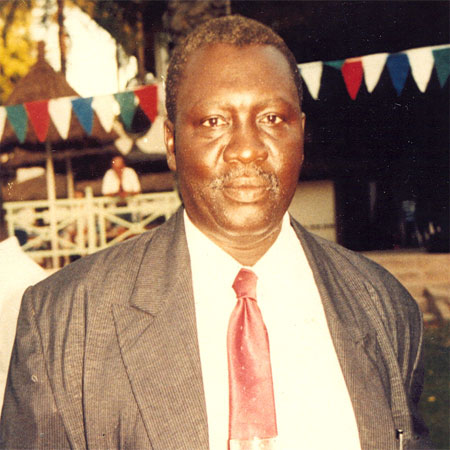 The Banjul High Court, presided over by Justice Emmanuel Fegbenle is today expected to deliver judgment on the historical trial of six Gambian journalists who are standing trial on six counts of conspiracy to commit seditious publication, publishing seditious publication, conspiracy to commit criminal defamation and criminal defamation.
This development follows the end of a  daily hearing of the case, in which the state in an effort to prove their case against the six defenders had called in three witnesses, all of them, operatives working for the National Intelligence Agency (NIA).
At the of the prosecution's case, all the six defenders also gave their testimonies to rebut the allegation filed against them.
The five out of the six defenders: Ebrima Sawneh, Pap Saine, Sarata Jabbi-Dibba, Pa Modou Faal and Bai Emil Touray, were led by their defence counsel, while one of the defenders Sam Sarr represented himself.
The defenders were arrested on 15th June 2009, by the NIA and taken to their head office in Banjul, where they were detained for three days.
They were first arraigned at the Kanifing Magistrates' Court on 18th June 2009, charged with five counts only to be later remanded by the court until 22nd June 2009.
On the 22nd June 2009, they again reappeared at the same Magistrate Court, when they were this time around granted bail.
The case was adjourned to 7th July 2009 for the accused to take their plea.
To the surprise of many, they were served to appear at the High Court on 26th June 2009 before Justice Joseph Wowo.
On 26th June 2009, they appeared before Justice Joseph at the Banjul High Court where the defence team, led by Senior Antuman Gaye objected to all the charges. He told the court that the instruction from their clients was that they were not going to take plea to all the charges.
During their appearance, Justice Joseph Wowo remanded them and adjourned the case to 8th July 2009.
On 29th June 2009, the defence filed a bail application in which the state represented by the Director of Public Prosecution, Richard N. Chenege, said they were not opposing to the bail application. Consequently, Justice Wowo granted them bail.
On the adjourned date of 8th July 2009, all the defenders pleaded not guilty to all the charges.
At this juncture, the Director of Public Prosecution told the court that he had his witnesses in court and applied for the matter to be heard in camera on the reason that all the witnesses are state security agents.
The application was granted and subsequently the matter was heard in camera before Justice Joseph Wowo.
However, the defence urged Justice Joseph Wowo to remove himself from the case.
The team of defence counsel, led by Senior Antuman Gaye, subsequently withdrew from the case, and the case was later assigned to Justice Emmanuel Fegbanle of the High Court.
Read Other Articles In Article (Archive)