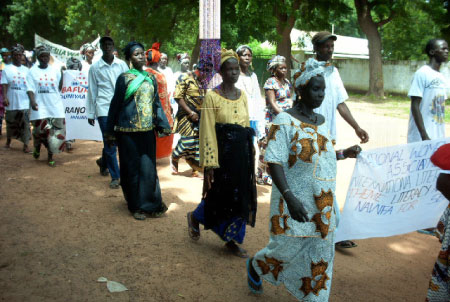 Celebrations marking the International Literacy Day were on Saturday held in the Central River Region with NGOs, CBOs, and other agencies.
The ceremony held at the Armitage football ground centered on the theme: "Literacy and Peace".
The commemoration took the form of a march-past from the regional education office to the market, led by Armitage scout band, with singing and chanting symbolizing the importance of the day.
Speaking on the occasion, Alpha Camara, Principal Education Officer in Region 5, says that literacy is essential for political and soci-economic development.
"Through literacy skills, attitude and behaviour are shaped and the consequences are to empower the individual to make informed choice. It is evident that no country benefits from lasting peace without a literate population. Improved and sustained literacy programme is a catalyst to enduring peace that will eventually improve lives, living conditions and mutual understanding and cooperation."
Mr Camara says the government continues to place high priority on education and in the centre of its programme to expedite social and economic development strategies.
"Although much has been achieved, almost 93 million adults lack basic literacy skills globally," he noted.
"The MOBSE through its dynamic leadership has strategically introduced the triple PA to boost, enhance and cushion partnership for improved literacy programme development and implementation."
He continued: "We recognize the support of all stakeholders, literacy providers, UNICEF and donor partners, CBOs, NGOs, and CSOs for their unflinching support to adult literacy programmes and helping in training plan and implementing programmes in basic literacy and numeracy as well as functional literacy for lecturers in all centres in the region and the country."
For his part, Malang Saibo Camara, deputy governor of CRR, said literacy is prerequisite for peace because it carries multiple benefits, cutting across the human, cultural, social, political and economic spheres. "It is for this reason the lack of literacy in knowledge-driven societies is tantamount to exclusion and marginalization," he said.
Mr Camara noted that literacy is a condition for individuals to effectively participate in democratic processes to claim a voice in community organizations, gain political knowledge and contribute to shaping the quality of public policies.
He said: "No country can therefore hope to establish lasting condition for peace unless it finds ways of building mutual trust between its citizens through inclusive education systems that promote mutual understanding, respect, tolerance and dialogue, hence it is crucial to integrate literacy in peace building process."
He says 793 million adults lack basic literacy skills globally, the majority of whom are girls and women, and about "67 million children of primary school age are not in primary school".
Read Other Articles In Article (Archive)