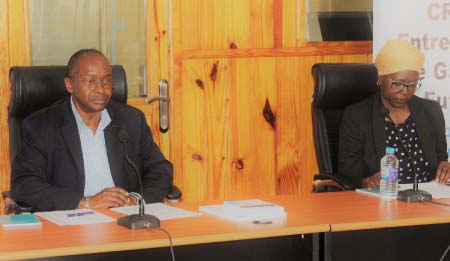 The Constitutional Review Commission (CRC) tasked by an Act of Parliament to review the 1997 constitution and draft a new constitution for The Gambia has disregarded the much talked secularism in the final draft constitution of the Republic of The Gambia.

The Gambia will remain a sovereign state if Gambians adopt the final draft constitution through referendum.
However, Chapter 1 (in sections 1 to 6) recognise that The Gambia is a Sovereign Republic and a multi-party democratic state. A new provision has been added to declare that The Gambia comprises people of different faiths, and each faith is to be respected and treated fairly, without any discrimination.
Last year in November 2019, the CRC released the draft constitution in order to afford Gambians another opportunity to propose recommendations for incorporation into the final draft constitution in which 'secularism' was not included and it sparked huge controversy, especially on social media.
CRC boss, Justice Cherno Sulayman Jallow, who was speaking yesterday during an online press conference said in essence, section 1 of the draft constitution, retains section 1 of both the 1970 and 1997 Constitutions by simply declaring The Gambia as a sovereign republic.
"It also retains section 100 (2) (b) of the 1997 Constitution which prohibits the National Assembly, amongst other things, from enacting any law establishing any religion in The Gambia as a State religion. Furthermore, section 12 declares that culture and respect for ethnic and religious diversity is the foundation of the nation and the cumulative effect of the Gambian people and nation."
He added: "Accordingly, the provision (amongst other things) obligates the State to "recognise and protect ethnic and religious diversity of The Gambia in which all faiths are treated fairly to ensure peaceful co-existence between all ethnic and religious groups."
The draft constitution, he explained, contains 319 sections divided into 20 chapters and several parts. In the assessment of the CRC, the draft constitution represents the generality of the wishes and aspirations of the Gambian people.
He said: "Each chapter addresses a different issue, although in some instances certain chapters have a correlation with provisions contained in other chapters. In order to ensure clarity and prevent inconsistencies, appropriate sectional and cross references are made. The draft constitution is an embodiment of the hopes and aspirations of the people of The Gambia."
Justice Cherno Jallow thus maintained that Section 49 (under Chapter VI) of the draft constitution guarantees freedom of conscience, religion, thought, belief and opinion. "It has been modified to ensure that an individual's manifestation or practise of their religion is not subject to interference by the State or any other person or authority. Under section 88 (5) (b) (Chapter VIII), provision is made that the President cannot exercise any power to establish any religion as a State religion."
Read Other Articles In Article (Archive)