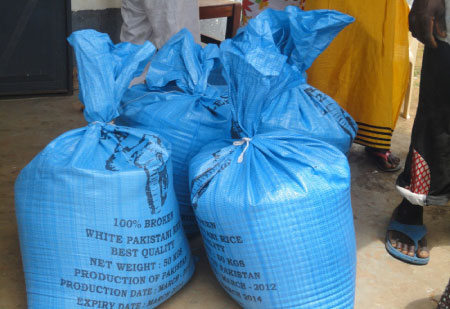 ChildFund The Gambia last week distributed food items to about three hundred families in West Coast Region as part of its rapid response to a food crisis declaration made by the Government of The Gambia.
In the same vein, ChildFund The Gambia has been donating US$89,198 (about two million dalasis) worth of food items to aid needy families and vulnerable children across the country.
This humanitarian gesture by ChildFund The Gambia is extended towards the affected families of last year's poor rain and yield and skyrocketing food prices, thus resulting in food insecurity that had a heavy toll on vulnerable families and children.
 Last week distribution started at Giboro Community Association (CA) affiliated to Kaira Nyining Federation of Kombo East where the 22 families who benefited for the past three months where at hand to receive more support.
At Giboro Community Association each of the 22 beneficiary family members went home with 40 kilos of rice.
Rugi Leigh and Bully Sanyang, both beneficiaries from Talokoto village, expressed their gratitude to ChildFund The Gambia and Giboro Community Association for their quick response by way of giving them food items to better their families.
At Sohm, 15 families benefited from ChildFund The Gambia food distribution for the past three months and each of the said family members was also given 40 kilos of rice.
Some of the beneficiary family members who spoke to this reporter thanked ChildFund The Gambia and Sohm Community Association under Kaira Nyining Federation for their kind help to them.
Beneficiaries like Nfamara Kujabi from Omoroto, Sally Camara from Faraba-Sutu, Mama Ceesay from Amdalaye, and Nyima Jarjue from Sohm and Landing Sanyang from Tumani Tenda villages both thanked the officials of ChildFund and Sohm Community Association for coming to their aid at a time they are mostly in need.  
At Jambangjelly, 120 families benefited each of whom received 40 kilos of rice within the said area.
Also at Tanji, 115 families received the food items and each family member received 40 kilos of rice.
Read Other Articles In Article (Archive)