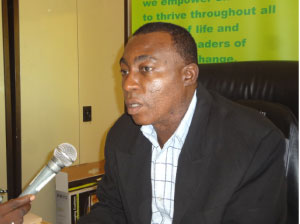 Child Fund The Gambia recently concluded six months of distribution of rice, oil and other food items to 1,800 families involved in the implementation of projects and programs in the West Coast Region.
Speaking at the distribution ceremony held at Kaira-su in Jambanjelly village, Tamsir Cham, Area Manager for Child Fund in Kombo North and South said the food distribution exercise was a continuous process that Child fund had embarked on over the past six months to needy families and the vulnerable.
According to him, the exercise was a project realized by Child Fund as a result of food insecurity in the country due to the drought conditions resulting in the failure of crops last year.
"Child Fund deems it fitting to contribute its quota towards alleviating poverty by assisting the most vulnerable people in the West Coast Region," he said, adding that Child Fund spent more than one million dalasis each month, since the start of the exercise.
Cham explained that in Kaira-su alone, about 587 families has benefited from the gesture and each family from that 587 got food from Child Fund.
He noted that the donated food items yielded dividends in the sense that most of the beneficiaries gave feedback to Child Fund as to how much the gesture helped them in managing their families in the area of food consumption.
"Most of the farmers have expressed gratitude to Child Fund for their intervention in addressing their most needed priority, which is food," he stated.
Child Fund, he went on, is not only looking at the food distribution aspect, but also looking at the sustainability part of everything they do with the enrolled families.
He further stated that Child Fund went to the extent of providing the farmers with seed, groundnut seed, millet seed, rice seed, most of which, he noted, are growing very well.
This, he added, was one way of encouraging farmers in getting sustainability.
Fatoumatta Jallow, a beneficiary from Sifoe commended Child Fund for their timely intervention, noting that giving food to those in need is laudable. According to her, most of the beneficiaries have one meal a day.
Also speaking at the presentation ceremony was Tida Jatta, a beneficiary, who expressed appreciation to Child Fund for changing their livelihood, noting that the project had a direct impact on them.
Read Other Articles In Article (Archive)