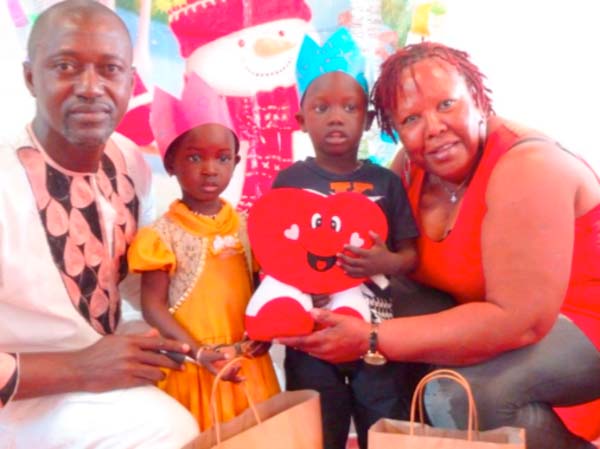 Charlotte Baurney and Lauretta Darling, directors of P.L. George, who took over P.L. George Educational Foundation from their late mother, last Friday presented Christmas gifts to P.L. George Nursery School in Bakau as part of their contribution during the Christmas celebration.

Speaking at the presentation ceremony, Madam Bourney, one of the founders based in California, the US, said they were in The Gambia on a vocation to visit relatives and to see how P.L. George Nursery school is being administered.
"The school has now clocked twenty-five years, and we the family members decided to continue with the legacy of our late mother, whose desire and goal is to educate humanity, which is our desire too as her daughters," she said.
"We love the children of The Gambia, because we know the youths of today are going to be the leaders of tomorrow. And to give them a strong foundation, education is essential. It is the only thing that you can give a human being that will last with him or her forever."
She said P.L. George Educational Foundation is a non-profit making organization out to support P.L. George Nursery School in Bakau.
She added that all their activities are in their website in social media platforms such as U-tube and facebook.
"Our goal is that one day we will get a University, but also in everything, you have to walk before you run," she said. "It has been three years since we took over P.L. George Nursery School from my late mother.
"We are still in the initial stage, struggling and are yet to stand firm on the ground. But with the cooperation of all the staff we will eventually get what we desire."
She thanked the parent-teacher association members, the headmaster of P.L. George Nursery School, the Bakau Newtown community, the Gambia government and everyone in the education sector for their service and support towards the welfare of the Gambian children.
According to her this year it is part of her plans to refurbish the school, and "if possible we will buy tables, as the school is in need of more furniture.
She also disclosed that with more support from donors she would be able to support more underprivileged children and establish a breakfast programme for the school in 2017.
For his part, the headmaster of P.L. George Nursery School, Mohammed Musa, and Haddy Gitteh, a teacher at the school, all expressed joy and appreciation with the founder and her daughter for their continued support to P.L. George Nursery School.
As headmaster of the school, Mr Musa said he would ensure they live up to expectations as they work hard to advance and develop the school.
Read Other Articles In Article (Archive)