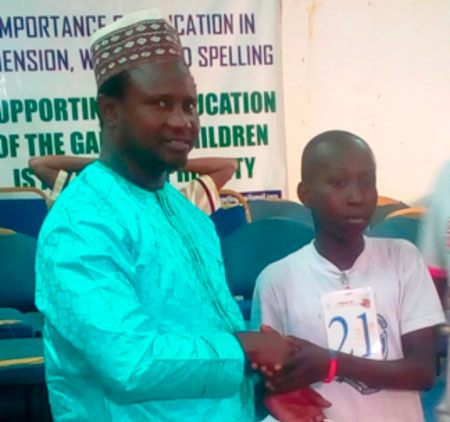 Abdoulie Juwara, a grade 5 pupil of Chamoi Bunda Lower Basic School has won the 2020 Upper River Region (URR) spelling bee championship organised by TAKE-M Transformation Organisation.

Isatou Camara, a grade 6 student of Sheafielf Calvary Preparatory School finished second while Omar Bah of Destiny Domen School secured third position.
The championship, which was held at regional educational directorate, Region 6, brought together 30 pupils from 17 schools within URR.
Meanwhile, six pupils will represent the region in the national championship. The National Assembly Member for Basse Constituency Hon. Muhammed Magasi has pledged to facilitate their travel to and from the national championship.
All participants were certified at the end of the championship with first, second and third positions being awarded prizes.
The theme for the championship was promoting the importance of education in reading, comprehension, writing and spelling.
Deputising for the regional director of Region 6, Momodou S. Camara thanked TAKE-M CEO Tunde Muyi Ogundimu, for his immense contribution towards national development of The Gambia.
He urged other Gambians to emulate Mr. Tunde in complementing government efforts and the Ministry of Education's quest to attain quality education.
National Assembly for Basse Constituency, Hon. Muhammed Magasi said to build a nation, you have to educate children of that nation "which is the responsibility of everyone."
He highlighted that "if all West Africans put our efforts together we will make our region the best."
He pointed out the many errors committed in various sectors, saying the signal it is sending indicates that the nation is still not mature.
"The way you express yourself in writing describes your maturity", he went on, noting that quality education is still a challenge in the country.
He further said that if we do not come together to ensure quality is achieved even the development of the country will remain a challenge.
He added that to determine the kind of future and society we want for our children, we have to start building that Gambia today by investing in children.
He further said that the integrity and independence of the country is still at question and therefore thanked organisers of the programme.
According to him, to have a responsible society we must invest in children.
Regional women's representative at Basse Area Council, Mariama Trawally, who spoke on behalf of the governor of Upper River Region, said there are a lot of citizens who cannot or are not willing to do what Mr. Tunde is doing for The Gambia.
She observed that "we have so many wealthy Gambians especially in Upper River Region who can support education but are not doing so." She therefore urged URR natives to emulate Mr. Tunde in empowering Gambian children.
Madam Trawally also urged women to educate their children, saying educating children should begin at home with parents before sending them to school.
Commanding officer, 3rd Infantry Battalion, The Gambia Armed Forces, Lt. Col. Sarjo Jarju said education and development are twin concepts, and therefore no nation can develop or realise its development aspirations without a sound educational system backed by standard policy to cater for the needs of the children who are future leaders most especially the girl child.
Jarju urged parents not to only concentrate on educating their male children, adding that the spelling bee will no doubt help nurture competitiveness and responsible mindsets in children's upbringing which is cardinal in the overall progress of students.
"Anybody who invests in children is contributing to the development of our nation," Commanding Officer Jarju said.
Tunde Muyi Ogundimu, CEO TAKE-M Transformation Organisation appealed for support for the continuation of the spelling bee, adding that the future of a child who cannot read or understand what he or she reads is likely not to be bright. He thanked all those who contributed in making the championship a success.
Read Other Articles In Article (Archive)