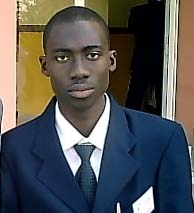 The Speaker of the Banjul Youth Parliament (BYP), Hon Ousman Conteh, who is also a Global Road Safety Youth Ambassador, has raised deep concern on the recent road accidents in the country.
 "It is davastating and horrofic these days to watch on GRTS television news and other print media to hear the reoccurance of road traffic accidents which claims lifes and  is becoming usual within the Greater Banjul area," he observed.
According to Ambassador Conteh, within last week alone precisely, in Lamin on 16th August 2009, five people including the driver lost their lifes due to drunk driving and on  23rd August 2009, at Tallinding claimed the lives of two by standing at footpath due to overspeeding, and of recent other fatal accident occurred at Brikama Nyanbai Forest, along the Brikama Serekunda Highway, claiming the life of a young man, leaving 22 others seriously injured as reported by local media.
"Think about these tragedies for a moment. Each day, more than 3000 lives are abruptly ended because of a road traffic crash, while many more people survive but are left with life-changing injuries.(WHO Report) In a split second, a crash transforms lives forever through the loss of beloved fathers and mothers, sons and daughters, brothers and sisters, grandchildren, colleagues, classmates and friends.
"Each and everyone of these deaths causes immense pain and suffering. Some emotional wounds never heal.   Losing a child, friend or relative is never easy, knowing that a child was lost to a preventable incident may add to the pain and sufferng and can leave families and communities with emotional wounds that take decades to heal," he said.
This, according to Hon. Conteh, requires drastic and concerted actions to keep our young people save on our roads, adding that "as far as safety on our highways means no accident, there is an urgent need for the authorities to critically look into the issue of reckless driving."
 In addition, he went on, driving under the influence of drugs and alcohol has become a course for concern and dangerous behaviour in the country.
"I think the authorities should critically look into the issue as it's becoming an attitude among drivers. It's also important to stress that the driving licence issuing authorities should also promote safety on the road by issuing licence to those that are qualified enough to drive.
"That no licence should be issued to any individual no matter who the person is without going through a vigorous test and screening process. For other road users, especially the young people, I hope there is also a need to be sensitised about road safety," he stated, adding that most of the time, roads are being arrogantly used without considering the risk involved which is often related to double sift systems by drivers.
He called on the transport union and vehicle owners to be mindful of the types of person they trusted with their vehicles. He also called on the police to do all they can in its power to ensure that those that misbehave on the road, while driving are severely punished without any compromise.
 The road safety Ambassador also believes that these measures would go a long way in serving as deterrent to many offenders who don't care about the life and safety of others.
In conclusion, he said "for these tragedies to come to an end on the roads, all should make the best use of the seat belt by wearing it; avoid over-speeding and properly maintain our vehicles; avoid driving under the influence of alcohol and/or drugs; have a good and safe infrastructure; Post-crash medical services; and vigorous sensitisation promoting safer driving behavior.
Hon Ousman Conteh is also the Programme Officer of the National Youth Parliament of The Gambia.
He was decorated with the insignia by the World Health Organisation in Geneva, Switzerland in April 2007, alongside dozens of other young people around the world during the first UN World Youth Assembly on road safety. 
Read Other Articles In Article (Archive)