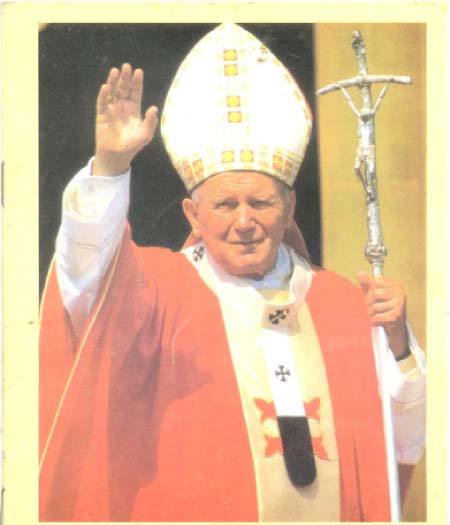 The Inter-Faith Group for Peace and Dialogue in The Gambia is a voluntary group of persons whose membership beliefs span various denominations and faiths in The Gambia: Muslims, Christians, Bahai, Ahmadiyya Jamaat. The Late Pope John Paul II signified different qualities and aspirations to different people. For the Inter-faith Group one of his greatest impacts has been in the sphere of inter-religious and inter-faith dialogue. Just barely five months into his pontificate, Pope John issued his first encyclical REDEMPTOR HOMINIS (1979) (Redeemer of Mankind) which, following earlier precedents of the 2nd Vatican Council (1962-1965) and pronouncement in documents related to that Council, strongly urged Christians to come closer to people of other religions, to foster mutual understanding through dialogue, contact, community prayer; and exploring each others' spiritual wealth. This position was amply exemplified during all the Pope's great travels around the world. Therefore the late Pope John Paul II shared the triple goals of the IFGPD: that man must continually collaborate with his fellow man through daily life actions; that man should collaborate with his fellow man through the development of common useful projects; and that man must perpetually remain engaged in true dialogue based on mutual respect, understanding and collaboration.
For the Gambia he not only paid a personal visit in 1992 but also sent his special envoy to The Gambia in 2002, Monsigneur Chidi Denis Isizoh of the Pontifical council for Inter-religious dialogue at the Vatican, to foster and encourage in The Gambia, an Inter-Faith Group.  One of the highlights of his 1992 visit to The Gambia was his open air mass at Independence Stadium, Bakau.  On that occasion His Holiness praised Gambians not only for the peace in their country but also the greatest satisfaction with the brotherly and peaceful co-existence between Christians and Muslims.
In his encyclical the year before, REDEMPTORIS MISSIO 1991) His Holiness explained more graphically what he termed the "dialogue of life" in the following words: "Believers in different religions bear witness before each other in daily life to their own human and spiritual values, and help each other to live according to those values in order to build a more just and fraternal society."  This was the embodiment of his message to the Gambian people; this has been his legacy to Inter-Faith Dialogue.
And to God be the glory that our beloved visitor of The Gambia is now in the bosom of Abraham, our father in faith (as was expressed by Paul of Tarsus) for Jews, Christians and Muslims everywhere.
Some Facts, Memoir, of Pope John Paul II from Biographers and my personal research
Pope John Paul II was born May 18, 1920 in Wadowice a small Town of 18,000 people in the South of Poland.  He was Christened Karol Josef Wojtyla but named himself in honour of his predecessors, Pope John XXIII and his short – lived predecessor Pope John Paul I.
He was the first non-Italian pontiff since Adrian VI, a Dutchman who was elected in 1522 and died the following year.
He did not have an easy childhood, as is common to many a great personage.  His mother died in 1929 when he was barely 9 years of age.  He was raised by his father(Karol Senior), a lieutenant in The Polish Army, in a one-bedroom apartment in Wadowice, with the assistance of a surrogate mother and neighbour(a highly respected school teacher, Mrs Helena Szczepanska, with whom he was in touch during his papacy and whom he gave private audience during return and class re-union visits to Wadowice). Three years later in 1932 his only and beloved brother, Edmund, died shortly after completing medical school in Krakow.
He attended Wadowice High School from where he graduated in 1938 with distinction.  He had acclaim as the most respected boy in class: he never got into fights though also known to be no one"s push-over in school or on the sports fields.  His sense of dignity and kindness, it is said, received the appreciation of nearly all students and faculty.
Following High School, he gained admission to the great Jagiellonian University in Krakow, the Polish equivalent and comparison to Prague, Oxford and Cambridge and other great institutions of learning in Europe. His first year at the University he took fifteen courses, which exceeded the usual load of twelve maximum. For: It is interesting to note, given his later vocation, that this daunting list comprised only language, linguistics, literature and drama subjects, and nothing on religious subjects.  He himself is said to have recalled that in High School, he had no thought of the priesthood; his passion had been for literature, especially dramatic literature and theatre, which were later to become his chief avocations. In a memoir "Gift and Mystery" (published 1996) he commented that his vocation to the priesthood is "known above all to God". We quote him in that memoir: "At its deepest level every vocation to the priesthood is a great mystery... a gift which infinitely transcends the individual. Faced with the greatness of the gift we sense our own inadequacy."
Whatever is surmised by contemporary commentators as reasons for the priesthood we can significantly count the influence of Cardinal Adam Stefan Sapieha  (then Archbishop) reputed to be his principal mentor and most revered prelate in Poland, whose secret seminary the Pope attended during the German invasion of Poland in September 1939 and who was later to preside over his ordination on the Feast of All Saints 1946. The following day, All Souls Day, he celebrated his first mass at the famous Wawel Catheral where he had habitually served as altar boy before and during the invasion.
He later became Bishop of Krakow and professor of philosophy at the Catholic University of Lublin where he was known to be very popular and respected teacher beloved by his students. There he began his strong advocacy for the treatment of women as intellectual equals, and his constant theme generally for the dignity of the individual human person.He pointedly visited and mingled with all levels of society emphasizing the value of every individual human person.
He became Archbishop of Krakow in 1964. He was made Cardinal June 26th, 1967. He was elected Pope about 10 years later in 1978.
He was a courageous person with remarkable inner strength. On May 13, 1981, he nearly lost his life when he was shot at by a Turkish Terrorist, Mehmet Ali Agca. The Pope had to undergo a lengthy operation to remove the bullet. Even though his old classmates and others who knew him well, believed he was saved by his inner strength, and physical fitness from all the skiing and mountain climbing he used to do, he himself is said to have thanked the Blessed Virgin and had the belief that he had been spared because he had important work left to do.  June 12, and already the Pope had started sitting up and doing more work, including writing and discussions on Vatican – Jewish relations.
He was later to appoint a special Commission to look into the Christian attitudes towards Jews and other errors that the Church had made over the centuries, to set the record straight. But the goal of establishing better relations with Judaism was always close to his heart. Being someone of great love and respect for humanity, such disposition for peace harmony and reconciliation, his attitude of ready and open forgiveness (he also forgave his would – be assassin ), to accept fault and truth, who would be surprised that he would make an early beatification as is truly deserving?
Read Other Articles In Article (Archive)