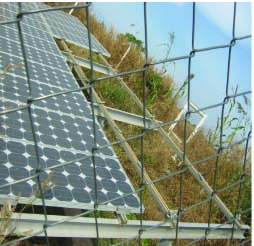 Reports reaching this paper from the Upper River Region have revealed that the seven solar panels recently stolen in Barrow Kunda as reported in this paper, have been found following thorough investigations by residents of the village.
In this paper's Monday edition, it was reported that seven solar panels were stolen from a borehole water supply system in the village of Barrow Kunda in the Wuli West District of the Upper River Region.
Speaking in a telephone interview yesterday afternoon with this paper, Alkali Kebbeh, the newly-elected Councillor of Sare Ngai Ward, a native of Barrow Kunda, who has been spearheading the investigations, said they found the solar panels with one Ebrima Trawalleh, a Malian residing in Senegal.
According to Councillor Kebbeh, a four-man delegation including him yesterday morning began their investigations with clearance from the Senegalese Customs post in Sare Elly.
From there, he added, they visited a village called Sare Sandi, where they learnt that some stolen solar panels were brought to the village by a stranger for safe-keeping.
"The said villager was said to have travelled to another village called Sinchu Gayo, where we followed him and found him," Kebbeh said.
Mr Kebbeh further revealed that the man initially refused to let the cat out of the bag, but after they tied him up with rope, he confessed.
"He said that he (the thief) sold the solar panels to one Lang Kebbe in France Barrow Kunda in Senegal at a cost of CFA33,000. He also claimed that he did it along with some people, and one among them is Mahamadou Kanja of Chamoi village in The Gambia, who also confessed receiving CFA5000 from him," Mr Kebbeh told this paper.
Meanwhile, all the solar panels were said to be in good condition, and have been taken to the village alongside the two suspects.
The matter, at the time of going to press, had been reported to Sare Ngai Police Station, from where police late in the evening picked up the suspects from the village of Barrow Kunda.
1st Class Conteh of the said police station, in a telephone interview, told this reporter that they could not come for the suspects earlier owing to mobility constraints.
According to the Sare Ngai Ward councillor, the matter would likely be taken to court for the damage to the water supply system, and for denying the community of Barrow Kunda clean water supply since 15 November 2010. 
Read Other Articles In Article (Archive)