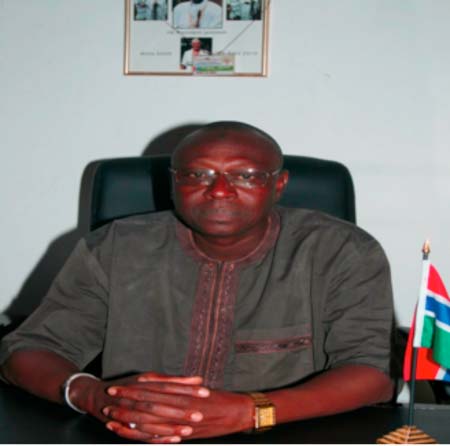 The board and management of Bansang Hospital Saturday held its 3rd Annual Award staff ceremony and health service delivery statistics presentation at the S.E.N School hall.
The award also witnessed the inauguration of the newly refurbished outpatient clinics.
Over hundred staff members were awarded with certificates and Saibo Danjo received the chief award certificate and cash prize.
Speaking at the ceremony, Director of Health Services, Dr Momodou Waggeh, commended the management and staff of Bansang Hospital for recognising the effort of their deserving staff by awarding them certificates of appreciation.
He said this would serve as a motivation for others to do more in the job as he also challenged them to continue with the good work, as a team in the improvement of Bansang hospital.
In his welcoming remarks, the deputy governor of Central River Region (CRR), Malang Saibo Camara, buttressed the need for more commitment, to raise the name of Bansang hospital.
He said more opportunities are created for working conditions that are conducive, especially in Bansang Hospital.
He commended the management and staff of Bansang Hospital for their corporation and hard work.
In his remarks at the ceremony, the Chief Executive Officer of Bansang Hospital, Baba Jeng, said that annually, the hospital management organises an award ceremony to recognise the staff who contributed immensely to their continued strive to provide quality health services to patients.
He also disclosed that Bansang Hospital would celebrate its 79th birthday on 18 April 2017, adding that the hospital is the second oldest in the country with a bed capacity of 197.
"It is serving an estimated population of six hundred thousand (600,000) within and outside the country."
The hospital CEO further stated that in 2016, patients numbered 72,934 were registered for seeking healthcare services in Bansang Hospital.
Out of this number, he explained, approximately 8.4 per cent were admitted for further care and about 2 per cent were referred in as emergency cases from other health facilities within and outside the region
He said the 2016 records have revealed that non-communicable diseases are in the increase, as hypertension, which is the leading cause of adult OPD consultation, has increased by 4 per cent from 3005 in 2015 to 3122 in 2016.
Read Other Articles In Article (Archive)