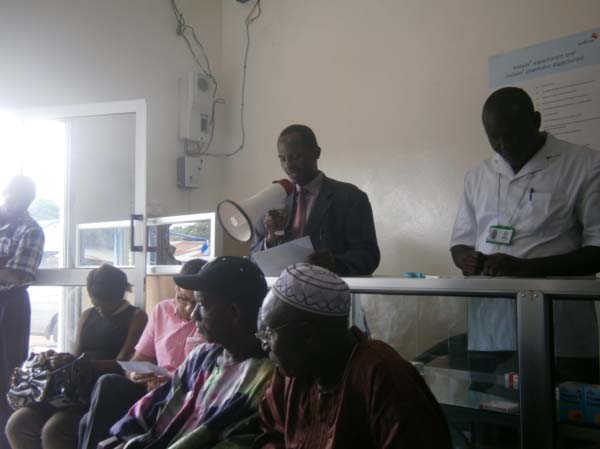 Banjul Pharmacy yesterday opened a new branch in Brikama in West Coast Region as part of efforts at providing excellent health care services to the Gambian people.
Speaking at the opening ceremony, Edward Ekwale, administrator of Banjul Pharmacy, said opening a branch of Banjul Pharmacy in Brikama "is indeed very heartwarming because this would mark the very first time that Banjul Pharmacy would be venturing outside the shores of the Greater Banjul Area".
He pointed out that since inception in 1974, at Liberation Avenue in Banjul, Banjul Pharmacy has been enjoying tremendous and profound patronage, which has seen it metamorphose from an obscure drugstore into being the leading pharmaceutical services in The Gambia.
Banjul Pharmacy, a name synonymous with quality and affordable health care known to almost every home across The Gambia and even beyond, has continued to lead the way in the pharmaceutical sector in The Gambia, he added.
He posited that Banjul Pharmacy has become the reference point and indeed the benchmark for pharmaceutical services in The Gambia today.
Although this is the first branch outside of the Kombos; however, it was their fervent hope and prayers that this would serve as a springboard to extend the provision of excellent healthcare services to other parts of The Gambia in support of government efforts to bring health care services to the grassroots.
Jimmy Olu Cooker, president of the Pharmaceutical Society of The Gambia, said Banjul Pharmacy was the first pharmacy to open a branch in West Coast Region in Brikama, hence the pharmacy needed to be commended.
He said 90 per cent of Banjul Pharmacy's medicine is imported from European countries, which are very expensive, and it still provides excellent services to the people of The Gambia with affordable cost compared to other pharmacies.
He revealed that since the inception of Banjul Pharmacy in 1974, it had always been at the forefront in providing excellent health care to people of The Gambia.
Head of Banjul Pharmacy, Ms Norma Hocheimy, said they are honoured to open a Banjul Pharmacy branch in Brikama as part of their requirements.
She said their motto in Banjul Pharmacy is to serve the people better and always provide them with excellent services.
Read Other Articles In Article (Archive)