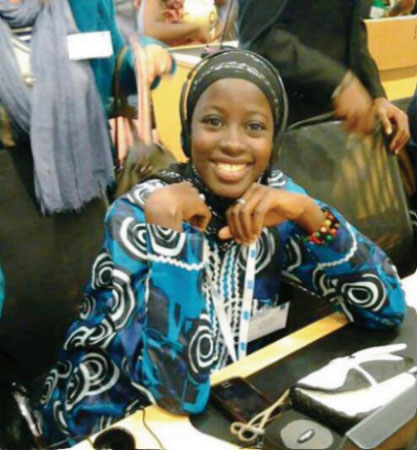 Ms. Awa K. Njie from ACTIVISTA The Gambia has been selected to be among the list of MILEAD fellows for 2013. MILEAD is the Moremi Initiative Leadership and Empowerment Development, an initiative that strives to engage, inspire, and equip young women and girls to become the next generation of leading politicians, activists, social entrepreneurs and change agents who can transform and change institutions that legitimize and perpetuate injustices and discrimination against women.
The 2013 Fellows are between the ages of 19 and 25, but are already actively leading change on pertinent issues, both at the grassroots and international level.
Awa works for the youth group ACTIVISTA The Gambia, a volunteer network of young people and students across rich and poor countries connected to ActionAid. She was selected together with twenty eight other women from twenty five African countries and the diaspora to represent Africa's most promising young women leaders with the courage and commitment to lead and shape the future of Africa. They were chosen through a highly competitive selection process and criteria based on their outstanding leadership promise, community service accomplishments, and commitment to the advancement of women in Africa.
Awa Njie will now join 27 other fellows at a three week convergence in Accra, Ghana, to kick-start the 2013 MILEAD Leadership Institute. That meeting will be hosted by the Institute of African Studies, University of Ghana, Legon. The Institute will serve as a platform for Fellows to cross-examine concepts of leadership in a broad African context, cultivate the skills and experiences necessary to occupy and excel in leadership positions, and gain knowledge on cutting-edge issues critical to African women and their communities. In addition to knowledge building lectures, skills-training workshops, team building activities, role plays and other interactive activities, Fellows will be mentored by experienced and accomplished women leaders who are committed to supporting and nurturing the next generation of African women leaders.
The MILEAD Fellows Program is a uniquely designed initiative committed to the long-term leadership development and promotion of Africa's most promising young women leaders. Fellows go through a year-long training and mentoring program, designed to build skills, strengthen networks, and support women's leadership on critical issues. Over the course of the year, the selected Fellows progress through three phases. First, identify and prepare Fellows through leadership development, networking, mentoring, and training. Second, promote the visibility and accomplishments of Fellows through media coverage and networking.
Lastly, support Fellows through career planning, management, and access to opportunities and resources. Fellows will benefit from a lifelong solidarity and support through the MILEAD Network.
Read Other Articles In Article (Archive)