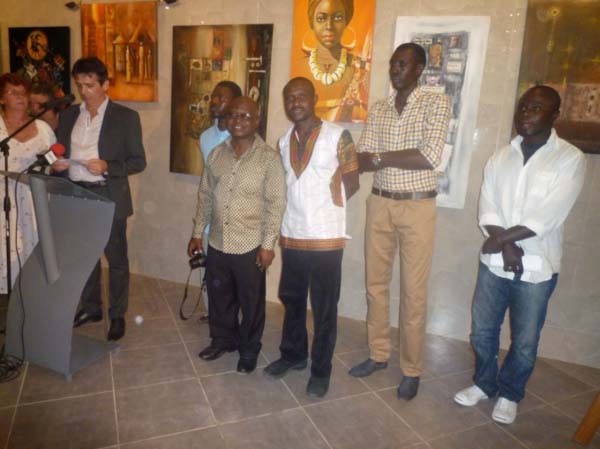 An art exhibition is currently underway at Alliance Franco Gambienne, on Kairaba Avenue, where different artists are showcasing their talents and skills by displaying their paintings, carvings, batiks and other artistic creations.
The opening ceremony of the exhibition, which will run from 9 through 23 May, was attended by representatives from government institutions, international organisations and embassies in Banjul.
Speaking on the ceremony, Cherno Omar Jallow, permanent secretary, Ministry of Higher Education, Research, Science and Technology, said the exhibition "is very important" because it serves as a platform to showcase talents of artists through their work.
Also a board member of Alliance Franco, Mr Jallow, said Alliance remains as a cultural hub open to everyone.
He said the centre is not only about French classes, which it is most known for, but also about exhibitions, promotion of cultural diversity, adding that it also provides a conducive environment for friends and loved ones to sit down and relax.
Mr Jallow said the ongoing art exhibition is a demonstration of how diverse Alliance Franco is and its commitment to the promotion of arts and culture.
Yuspalkala, a Nigerian artist residing in The Gambia, said "this is the best art exhibition ever held at Alliance", compared to other exhibitions he had attended at the same place.
He said the exhibition brings about unity among artists especially between international and local artists who are exhibiting.
"This is a very good experience and I would like such kind of exhibitions to be very common in The Gambia," the Nigerian artist said.
He said exhibition makes them (artists), unite to achieve their common objectives.
Read Other Articles In Article (Archive)