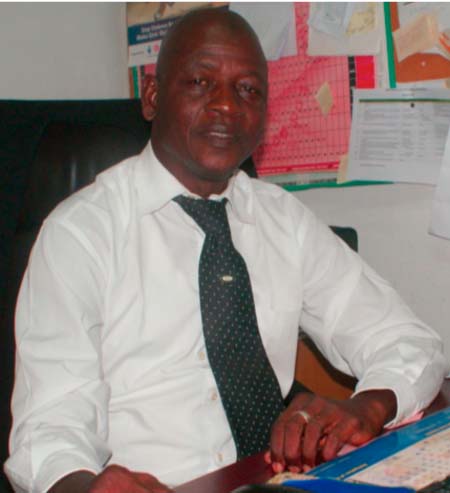 Hon. Madi Ceesay, National Assembly Member for Serrekunda West Constituency, has said that any attempt to celebrate the July 22nd 1994 anniversary would amount to coup d'état.

Speaking at a media briefing held at the UDP Political Bureau in Manjai yesterday, Hon. Ceesay said all political parties in the country subscribe to democracy and not coup.
Hon. Ceesay was reacting to an article published in The Standard Newspaper quoting Amul Nyassi as saying: "APRC will celebrate the 22nd July anniversary if they have a permit."
He recalled that July 22nd 1994 was the day when a democratically elected government under the leadership of Sir Dawda Kairaba Jawara was overthrown.
"July 22nd 1994 was a day when democracy was killed in this country," he intimated, saying it was a day when human rights were violated, so many institutions and newspapers closed, a day so many people began to lose their rights while others were judicially executed with the beginning of that long story that took us to December 1st 2016.
"I cannot see any sense for anybody who call himself a democrat and a sitting member of parliament who call his party a democratic party to subscribe to the celebration of a day when democracy was killed in this country," he remarked, while describing the coup as a criminal act that cannot be condone in any way.
"Any party or organisation that attempts to celebrate July 22nd is subscribing to a coup and that party should be banned," he said.
He also said that any attempt to celebrate the day would tantamount to a mockery to democracy, as the sitting government was democratically elected.
"Democracy cannot compromise coup d'état," the Serrekunda West NAM said, adding that any activity or attempt to glorify July 22nd, which is a criminal act, is aiding a coup d'état.
Celebrating the day is a serious crime hence anyone attempting to celebrate it should face the full force of the law.
"What happened in July 22nd 1994 should be condemned by all and sundry," he emphasised.
"The act by the former president was an act of betrayal and criminality because as a then soldier he was paid tax payers money to safeguard the territorial integrity of the country," he highlighted, saying, using a gun for aggressive against civilians is the highest form of betrayal.
"If coup was glorious, the former president would not have calm down several attempts on him because in November 1995 as well as in 2006 there were attempts and he brutally dealt with those people by killing and imprisoning some of them," he said.
He commended Barrow's government for their position on the celebration of the event.
APRC is a registered political party and have contested several elections since 1994 and have all rights to organise party functions and discuss about their successes as well as organise rallies and press conferences, Ceesay further said, adding that, he would have thought APRC would have commemorated the day they were founded rather than glorify July 22nd 1994.
He called for the banning of APRC if they continue to push the agenda of July 22nd 1994.
According to him, even when they were (the APRC) in power it was wrong to celebrate the day because Jammeh turned into a civilian and contested elections.
He pointed out that none of them, including the party attempting to celebrate the July 22nd anniversary, that was elected to parliament have used a gun to change any effect of the government.
"The 53 National Assembly members were democratically elected; none of us used a gun to get to where we are," he stated, saying all parties subscribe to democracy and as such all parties took part in the December election in which Barrow emerged as president.
He further said that in April this year all parties used the ballot box; therefore all parties subscribe to democracy. "None has subscribed to a coup," he averred.
Read Other Articles In Article (Archive)