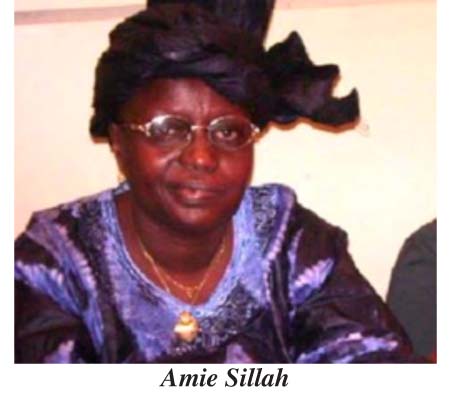 Amie Sillah, National Assembly candidate for the People's Democratic Organisation for Independence and Socialism (PDOIS), has called for proportional representation of women in parliament.

Mrs Sillah, contesting for the National Assembly seat for Bundungka Kunda constituency, made this call during a debate held recently at the TANGO conference hall.
Also a women's rights activist, Sillah emphasised there should be a quota system and proportional representation of women in parliament.
She also called for electoral reforms, saying many women cannot contest elections because of the patriarchal nature of Gambia society.
"I am standing for Bundungka Kunda because I know they need my services. I have been in Nyakoi School for 25 years for the children, and now I am very proud of them and what they have achieved over the years. Others are thinking that I want to do something, but I have done something over the years."
"God willing Bundungka Kunda is going to be an activist constituency. The people will be mindful of repressive rule and impunity that is why the electorates should give the job to its friend and not their friends," she said.
The PDOIS candidate said there is need to put in "good National Assembly members", because such parliamentarians can make good laws for the people they are representing.
According to Mrs Sillah, her organisation - Women for Democracy and Development – had given the women that it is working with $200.
She said the women have managed the money very well, and they have a million dalasi from the $200.
"I am very proud and when I get to the National Assembly, I am going to be representing my constituency; I will be their mouthpiece, and I will eat and play with them," she said.
"I am going to donate my salary to Bundungka Kunda constituency, and Nyakoi School will be considered again. I am going to advocate for electoral reforms, and I am interested in the two terms, and proportional representation and second round of voting.
"This is just additional, because the role of National Assembly members is to make laws, scrutinize budgets and to pass bills. So I will make sure that the laws and the government budget is pro-women; and as an activist I want to make sure that women are well represented, as well as youths, elderly women and the differently-able."
Amie Sillah is a trained public health officer, but according to her, activism gets her into everything, including politics.
She contested twice for the parliamentary seat of Banjul South in the 1st republic. She lost all these times, because "that time it was very difficult for women". Since then, she has been in the forefront of advocating for electoral reforms.
As a family counselor and mentor, Sillah runs a column at Foroyaa newspaper where she writes about gender-based violence in the family, and how to take care of the family and relationships.
She is an author and her first published book was entitled: 'Silent Voices'.
Read Other Articles In Article (Archive)