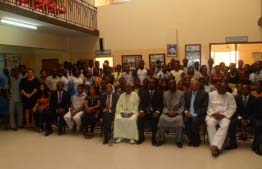 The American International University (AIU) of West Africa yesterday held an orientation ceremony for another batch of students numbering 64.
Out of this number of new intakes, 48 students are international (foreign) and 16 are from The Gambia.
At the AIU premises on Kairaba Avenue, the newcomers were addressed by the university authorities and senior government officials including the Health Minister.
The students of the AIU will be pursuing courses which include medicine, pharmacy and nursing while the introduction of College of Management and Information Technology is due to commence next academic year.
Speaking at the ceremony, Dr Macky Taal, Director of Academics, welcomed the new intakes to the university and urged them to make best use of their stay at the AIU.
The president of the institution, Dr Dinesh Shukla, in his welcoming statement, said the students had embarked on a journey to make a difference in life.
"Be somebody who will inspire other people to become like you, and get focused because you all have the potentials," he said.
Dr Shukla urged them to work hard to become professionals in their fields in the future, and assured them of quality education at the university.
He also thanked President Yahya Jammeh for his tireless support, adding that they would not have achieved all their endeavours without the fullest support of the President since the inception of the school.
President Jammeh supports The Gambia and Africa in general, he told the students.
"Let us make our community proud, our country and Africa proud. Africa has been left behind for long, but we have the potentials," he added.
According to him, the students at the AIU are examined the same way as the students in Texas, and other parts in the United States of America.
For his part, Omar Sey, Minister of Health and Social Welfare, thanked the Head of State for creating an environment conducive for attracting students from across the world to come and study in The Gambia.
Minister Sey assured local students of employment opportunities in the country upon their graduation hence their services are needed by communities across the country.
Read Other Articles In Article (Archive)