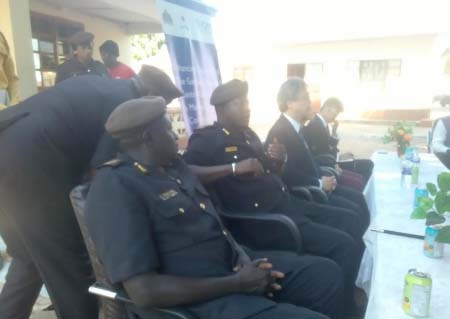 In an effort to strengthen control at Gambia's border areas, Japanese Ambassador Arai Tatsuo, Friday handed over renovation work and solar PV installation equipment to The Gambia Immigration Department during a border visit organized by International Organisation for Immigration (IOM) and senior government officials, where they met with the established Inter-Agency Border Coordination Committees.

The objective of the project is to enhance capacities of Gambia's local and central governments to manage borders and contribute to trade facilitation, community and economic development.
The strategic objective of the IOM is to support the government of The Gambia in IBM programming, facilitate safe and orderly migration, mitigate security threats and cross-border, organized crime and positively impact socioeconomic development in accordance with relevant international laws, conventions and best practice.
Ambassador Tatsuo said the project will strengthen Gambia's border control management, saying peace and security are important for the development of the country.
He said despite the gains, there are still some challenges which include smuggling or trafficking, saying to control the borders, they have to closely work with Gambian authorities and IOM. "I am very happy for what I have seen in this two days visit at the borders. We had serious engagements to establish peace and security in Africa, including The Gambia, because if you want to grow the socio-economic development, you need security," he said.
Fumiko Nagano, chief of mission of the International Organisation for Immigration (IOM) said from 2018 to 2019, the Japanese government is focusing on cross border cooperation between Senegal and The Gambia, noting that in The Gambia, the project is entirely focusing on The Gambian Immigration Department border management system capacity.
Seedy Mutarr Tourary, director general of Gambia Immigration Department said the project is implemented by the International Organisation for Immigration (IOM) in partnership with The Gambia Immigration Department.
"I want to take this opportunity to thank the government and people of Japan through Ambassador Arai Tatsuo for assisting us to have these state of earth equipment to facilitate the control of irregular migration," he said.
He said Gambia government have approved a good budget line to support not only in the renovation of the facilities but also to have other materials for the border posts.
He said Migration Information and Data Analysis System (MIDAS) facilities have been installed at Amdallai and Kerr Ali border posts for electronic data capturing, statistical analysis and improved rapid movement of persons and goods, training of border officials to have the necessary skills and knowledge to undertake their immigration and border management functions.
Read Other Articles In Article (Archive)