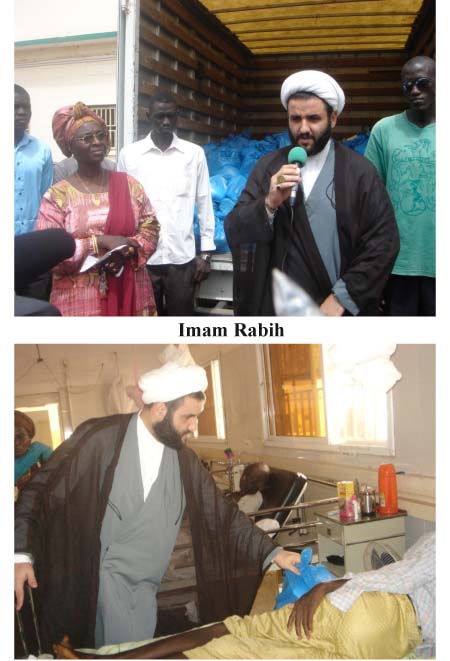 The Lebanese-Gambians, through the AlhelAl-Bayt Islamic Association-The Gambia, last Fridaydistributed food and non-food items worth over two hundred and fifty thousand dalasi to the Edward Francis Small Teaching Hospital (EFSTH) formerly RVTH, as part of their annual Ramadan gesture in the country.
The gifts, which included rice, sugar, teabags, cooking oil, biscuits, milk and other items, were presented to patients, their escorts and hospital staff on duty at the time of the presentation.
The presentation of the gifts was led by the Imam of the Lebanese mosque in Pipeline, Imam Sheikh Rabih Farhat, accompanied by other members of the association and hospital staff.
The distribution, which lasted for about three hours, took Imam Rabih and his delegation around the hospital, entering into all the wards and personally presenting the gifts and offering prayers for the sick.
Speaking on the occasion, Imam Sheikh Rabih, said the annual Ramadan gift is a tradition and a goodwill gesture from Lebanese-Gambians in the country to their Gambian brothers and sisters, especially the sick and the needy.
He added that the organisation usually receives contributions every year from the Lebanese community here to give out to their fellow Muslims, as an obligation bestowed on them.
"We were told by the holy Prophet as Muslims to care for one and anther and give out charity to those in need," he said.
Imam Farhat told the audience that the gesture was not a charity; rather it was an obligation on them to reach out to those in need.
He maintains that Muslims should always help, support and care for one another, saying that giving is always good, especially during the holy month of Ramadan.
According to him, they hold very fast onto the holy Qu'ran's teaching of caring and extending a helping hand to fellow Muslims.
The Lebanese Imam used the opportunity to felicitate President Yahya Jammeh and the Gambian people on the feast of Koriteh in advance.
He also preached on unity and mutual understanding among Muslims in the country and beyond, saying peace and unity should be promoted.
"In this blessed occasion of the holy month of Ramadan, we are privileged to present to our brothers and sisters, the patients in The Gambia, with a gift that we hope and wish will emboss smile on their faces. We are praying that the Almighty God shower upon them blessings of speedy recovery and good health at all times," he said.
In receiving the gifts on behalf of the hospital, Fatou Ceesay-Nyabally, chairperson of the hospital donation committee, thanked the Lebanese community for the humanitarian gesture.
The month of Ramadan is all about caring and sharing and choosing the hospital is a laudable move by the Lebanese-Gambians, said Mrs Ceesay-Nyabally.
Read Other Articles In Article (Archive)