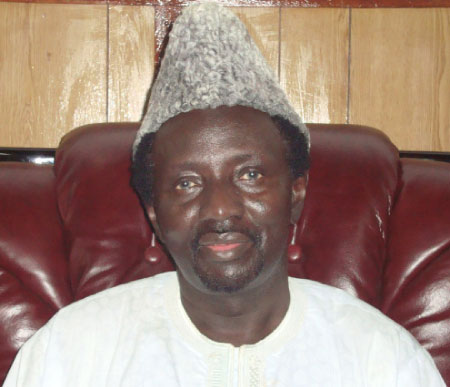 Your Excellency Adama Barrow
President and Head of State of the Republic of The Gambia
Banjul, The Gambia
Your Excellency,
Assalamu Alaikum Wa Rahmatullah Wa Barakatuhu
CONGRATULATIONS AND PRAYERS FOR THE PRESIDENT AND HEAD OF STATE, HIS CABINET AND THE PEOPLE OF THE GAMBIA
We express our sincere and profound gratefulness to Allah Almighty Who enabled us all to witness and experience this auspicious and blessed day for Your Excellency Adama Barrow to have been sworn in as President and Head of State of the Republic of The Gambia on Thursday 19th January 2017, under the atmosphere of peace, security, unity and joy.
We the members of the Ahmadiyya Muslim Jamaat congratulate and continue to pray for your Presidency, Cabinet, the Government and the entire people of The Gambia. As you take up full responsibility of leading the Republic of The Gambia, we pray to Allah Almighty to make this heavy task lighter and easier for Your Excellency and your Cabinet to carry out your functions which was by the grace and mercy of Allah Almighty conferred and entrusted to you by the people of The Gambia under the Supreme Law of the Land, the Constitution and your duties and responsibilities are dictated by the same Supreme Law.
The Gambia under the Constitution is a secular state where each citizen of this country can express and demonstrate his or her religious beliefs, freedom of expression, assembly, worship etc.
Your Excellency, for your services to be duly executed, true justice demands the equal treatment of all citizens and other residents of the country with equality, equity, respect, tolerance, patience, love, kindness and unity regardless of ethnicity, tribe, religion or party affiliation. But above all the most important principle is fear of Allah Almighty and righteousness, with this in us we can do and achieve a lot for this great nation. We can only love this country when we sincerely, dedicatedly and devotedly work for the interest and betterment of the poor, needy, weak and all citizens and non-citizens of this country.
Our Khalifa and Supreme Head of Ahmadiyya Muslim Jamaat worldwide Hadhrat Mirza Masroor Ahmad said:
"Nations must be fair in their dealings and should not be governed by narrow self-interest but rather by what is right, what is just, and what is in the interest of the world at large."
"If we truly want peace in our time then we must act with justice. We must value equality and fairness. As the Prophet of Islam, the Holy Prophet Muhammad (peace and blessings of Allah be upon him) so beautifully stated, we must love for others, what we love for ourselves. We must pursue the rights of others with the same zeal and determination that we pursue our own rights. We should broaden our horizons and look at what is right for the world, rather than what is only right for us. These are the means for peace in our age."
"We should realise and recognise the critical need of the hour. We must accept that peace can only be built upon the solid foundations of honesty, integrity and justice. These are the keys to peace. Until there is honesty and justice no solution will ever prove beneficial. "
"Islam teaches that in all circumstances, no matter how difficult, you must remain firmly attached to the principles of justice and integrity… The truth is that sustainable peace can never be established until there is justice at every level of society."
"In truth, Islam guarantees the freedom, liberty and protection of the people of all religions. Islam protects the right of every individual to follow his or her own chosen path or belief."
We assured you of our highest consideration and full support and the Ahmadiyya Muslim Jama'at shall always be a partner in socio-economic development of our country. Since the advent of the Ahmadiyya Muslim Jama'at in The Gambia, we have remained and will ever be loyal citizens and committed to the promotion of religious tolerance, understanding and social harmony. We will ever continue to support and work with your Government in serving the Gambian people in the moral, spiritual and religious fields as well as service in the social sector.
We are thankful to the Gambian people and praying for them for their continued patience, perseverance, forbearance and fortitude. We are one nation and one people and it is incumbent and obligatory upon all Gambians to embrace and accommodate each other with love, tenderness of heart and forgiveness.
We are also pleased to convey to you the salaam and prayers of the Supreme and Spiritual Head of the Worldwide Ahmadiyya Muslim Jama'at, His Holiness Hadhrat Mirza Masroor Ahmad Khalifatul Masih V (May Allah be his Helper) who is continuously praying for this great nation
O Allah Almighty, our Lord, Master and Creator of Heavens and Earth and the entire Universe You are the Most Powerful, Supreme and owner of Sovereignty, make and endow our President and his Government the ability, wisdom and righteousness to rule this great nation of ours with true justice, fairness and forbearance. May He further establish peace, tranquillity, prosperity, security and progress on our dear and beloved motherland The Gambia. Ameen.
Yours Sincerely,
Baba F. Trawally
Amir
Read Other Articles In Article (Archive)