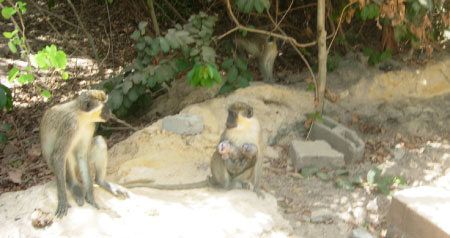 Ousainou Touray, the senior wildlife conservation officer, who doubles as project manager for Gambia Biodiversity and Institutional Strengthening Project, under the Department of Parks and Wildlife Management (DPWM), has disclosed that for the first time Green vervet monkey would be bearing healthy and bouncing twins in the history of Abuko Nature Reserve since 1968.
According to him, records revealed that 17 years ago Green vervet monkey bore twins, but one of the twins could not survive because of health conditions leading to its death.
Mr. Touray was speaking to this reporter at his office in Abuko, after visiting the monkey to ascertain the rarity that happens once in life time.
Noting that the Green monkeys are not the only monkey species in the reserve, he said they have been there since from the onset and have developed and settled there, with consistent growth of a number of population.
Even though is very expensive, he said, it is of paramount importance for the department to embark on primate (monkey) census to determine the total number of monkeys within the reserve.
For his part, Mawdo Jallow, the head of research and development unit, under the department revealed that in the reserve there is an orphanage where animals are kept to rehabilitate them and form a family before they release in the wild to live in their normal life in the wild.
"Most of the animals in captivity (orphanage) are confiscated from people  using them as pet in their homes kept fed until they recover their wild living style before they could be released into the wild for continuation of life," he added.
According to him, at the orphanage there are two types of primate monkeys in captivity, namely Western Baboon and the Red patas monkey, while in the reserve there are five different types of primate monkey species: the Green Vervet monkey, Red Colobus Monkey, Bush Baby monkey and the other two mentioned above.
"It is very rare to see Green vertvet monkey bearing twins that are healthy and strong," said Mr. Ebou Jarju, the field research assistant at the department.
As a researcher, Jarju said, he had observed that primate monkeys in general have their young ones of two months regular suckling (three times a day).
Ms. Alison Hillyer, a conservation biologist from England, who is currently conducting a survey on the relationship between the Red colobus monkey and the Green vervet monkey, said her experience between the two primate species- is that the Green Vervet and Red Colobus monkey usually troop and interact through playing and movement.
Read Other Articles In Article (Archive)