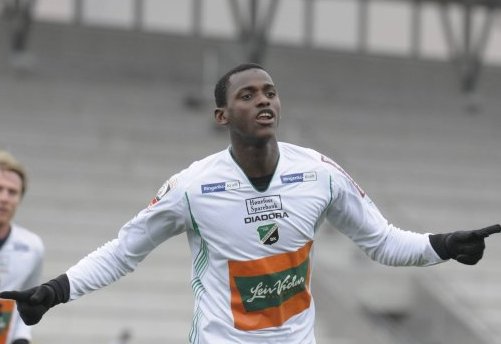 Three solid goals from the Gambia international Abdou Darboe has help earned Hønefoss BK second team's 9-1 win over Åssiden in the Norwegian Fair Play Ligaen Second Division League Monday night.
The former Armed Forces forward together with teammate Espen Øverby led the scoring in the Åssiden Aka Arena.
Espen Øverby with Darboe on top, both strikers scored 7 of the nine goals the home team had.
Abdou opened the scores in the 31st minute and came back in the 55th and 77th minute to complete his first three goals so far this season.
Espen Øverby is very pleased to be going in again, and praises striker partner Darboe, whom he believes, should be given a chance at the A-team at the Tippeligaen League soon.
Team Trainers Espen Long Valley is extremely pleased with this year's series premiere, and made great effort throughout the match.
Abdou Darboe's club's barely a few hours to their first win in the lower league decided on Monday afternoon to end its cooperation with the club's current Head Coach Ole Bjorn Sundgot, who has failed to secure a win in the Nowegian Tippeligaen League in six fixtures.
The coaching team is now under Tom Gulbrandsen, a member of the club's athletic committee. This will give the club the time necessary to find a permanent solution to the training issue, according to a press release that was sent out to the Norwegian media after a board meeting.
Hønefoss A team, which is lagging at the bottom of the table is set for its 7th match against Stabaek, while Tromso will take on  Ebrima Sohna's  Sandefjord, all  tonight.
Abdou is hoping to repeat his impressive performance tonight with the first team, as they are still looking for their first win of the season in the Norwegian First Division League.
Read Other Articles In Article (Archive)