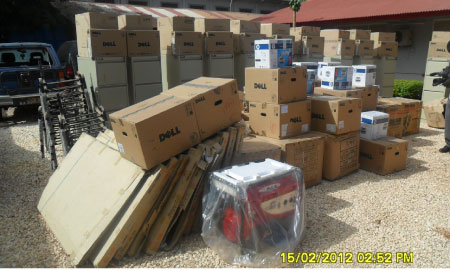 Action Aid The Gambia (AATG) yesterday presented office equipment and tools worth D794, 160 to People Living with HIV (PLHIV) support groups and networks at a ceremony held at their headquarters in Kanifing.
Speaking at the handing-over ceremony, the executive director of AATG, Dr Kujejatou Manneh-Jallow, said: "I would like to remind you that as a country we have committed ourselves to halt and reserve the prevalence of HIV infection from 2.8 % to 2% by 2014, through the provision of comprehensive HIV/AIDS prevention, treatment, care and support throughout the country and we intend to achieve this under the round 8 Global Fund grant."
According to her, this cannot be done without strengthening the capacity of individuals and institutions by providing some key office resources like computers, printers, generators and office furniture with filling cabinets to them.
Global Fund is well aware of this, she said, adding that it is one of the reasons they approved the procurement of the items to facilitate quality performance at the level of HIV and AIDS support groups and networks.
Dr Manneh-Jallow therefore emphasised the importance of rational use of the materials, noting that thousands of dalasis were spent on procuring the materials to support the Gambian people "whether they are HIV and AIDS positive or negative".
"Therefore, we owe it to them to serve them in the best possible manner we can for the effective and efficient delivery on project deliverables," she said.
She challenged the beneficiary institutions to make the best use of the items by ensuring that trained personnel are employed to manage them and also ensure regular service is done.
According to Dr Manneh-Jallow, the items "will go a long way in enhancing performance of the beneficiary institutions".
Coming to receive the items was a clear demonstration of their commitment to the National HIV and AIDS response particularly to the Global Fund 8 HIV and AIDS grant implementation, she remarked.
Meanwhile, each of the beneficiaries received a generator, a desktop computer and accessories, a set of office furniture and filling cabinets. 
The beneficiaries included GAMNAS, MUTAPOLA, Allatentu, Fandema, Santa Yalla, Jamurai and Jiwoolenora.
Other speakers on the occasion were the deputy director of the AATG, Omar Badjie, and Nuha Ceesay from UNAIDS.
Dodou Jallow, a representative of the beneficiary groups, gave the vote of thanks.
Read Other Articles In Article (Archive)