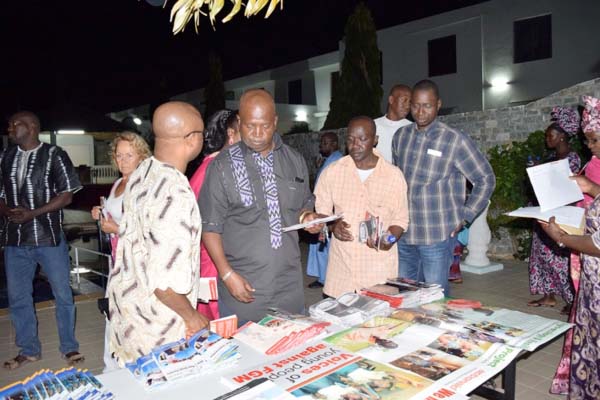 Stakeholders from the private sector and representative of EU at the weekend held the first-ever ActionAid International The Gambia private sector partnership cocktail reception at the Paradise Suites Hotel in Kololi.
Speaking at the ceremony, the executive director of ActionAid Omar Badji, said:"It is a historic moment for us as an institution to have your presence here, which is an indication that pursuing development is a top priority for your institution as well.
"As a civil society organization, we are happy to know that we have partners ready to sail with us on our development journey for the interest of the poor and underprivileged.
"AAITG is an affiliate member of ActionAid International which is an international organization working with over 15 million people in 45 countries for a world free from poverty and injustice.
"Our vision is to have a world without poverty and injustice in which every person enjoys their right to a life with dignity.
"AAITG operates in three Local Rights Programmes (LRPs), namely LRP 8, 9 and 11, covering 126 villages in these areas.LRP 8 is Niamina East District and covers 46 villages; LRP 9 is Upper Nuimi District and covers 20 villages, and LRP 11 is Niamina West and Niamina Dankunku Districts and covers 60 villages.
"In addition to the LRPs, AAITG works with other strategic partners outside the LRPs including those in URR north, CRR north, West Coast Region and those at national level.
"AAITG is currently implementing its fourth strategic objective which has a span of five years, 2013-2015. These include: 1. Promote sustainable agriculture and control over natural resources to improve lives and livelihoods of people living in poverty and social exclusion. 2. Education and Youth: We are contributing towards improving quality public education for all children in the LRPs and enhance youth participation and leadership in national development by 2017. 3. Women's Rights: through this objective, we aim to break the cycle of poverty, violence, and attainment of economic alternatives for women and girls to be in charge of their sexual and reproductive health rights through joint-action of women and men. 4. HIV & AIDS and Malaria: through this strategic objective to eradicate HIV&AIDS and malaria by supporting the elimination of new infections, providing care and support through evidence based services country wide."
For her part, Amie Bensouda, board chairperson of AAITG, said: "The institution has evolved from a country programme to an associate and now an affiliate, meaning it is now a local organisation with a General Assembly and a Board of Trustees to provide oversight function with autonomous powers to make or take decisions independently."
She added: "AAITG can participate in national dialogues and resourcing to implement its programmes in the target communities.
"At this point, I am assured that all of you understand that AAITG is not a funding agency but rather an organisation that raises funds through diverse means in collaboration with our implementing partners to deliver on our CSP Goals.
"As an organisation, we are humbled by your presence which shows that we share a common vision of eradicating poverty in The Gambia."
Read Other Articles In Article (Archive)