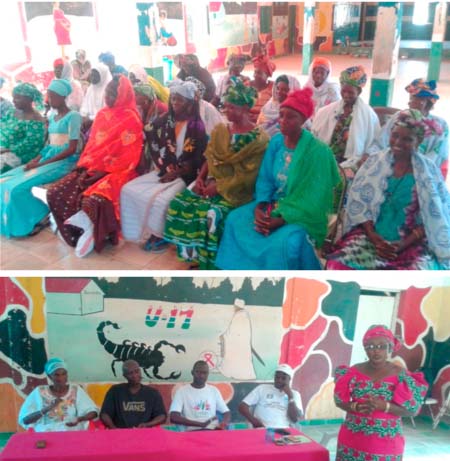 The Monitoring and Evaluation Officer of Women Bureau has lauded the UNFPA for complementing the development efforts of the bureau at promoting the health of women and girls.

Sainey Cham was speaking in Njaba Kunda and Farafenni recently in the North Bank Region.
The training was attended by 60 women leaders. Cham said the law strongly recommends for legal action against anyone found guilty of practising it.
He said the revised Women's Act 2015 states that anyone found guilty of the practice would be liable to a fine of D50,000 or in default to serve three-year imprisonment or both.
He therefore called on women leaders to be steadfast and proactive in creating public awareness on the law.
The sensitization is supported by the United Nations Fund for Population Affairs (UNFPA).
The activities were part of the UNFPA's efforts at helping to build the capacity of women leaders on the revised Women's Act 2015, which strongly prohibits the practice of FGM in The Gambia.
Deputizing the district chief of Upper Baddibou, Modoulamin Jagne, Farafenni ward councillor, underscored government's commitment to the empowerment and protection of their reproductive health to enhance national development.
The President's pronouncement on banning FGM clearly demonstrates his concern for women, he said, lauding the Women Bureau under the Ministry of Women Affairs for their steadfastness.
The Farafenni ward councillor used the moment to call on women to rally behind President Jammeh and the APRC party ahead of the December 1 polls.
Kumba Jallow, Women Bureau lady councillor for Upper Baddibou, called on women leaders to be vigilant and proactive in raising public awareness.
Fatou Camara, Senior Programme Officer of the Reproductive and Child Health Unit at the Ministry of Health, said the practice remained a public health concern and called on women to desist from the practice, saying it affects the reproductive health of women and girls and could lead to serious health complications.
She lauded the Bureau in complementing the Ministry of Health's efforts at promoting the health status of women and girls.
Njie Duno, lady councillor for Central Baddibou, thanked the Bureau for their steadfastness in creating public awareness on the anti-FGM law and enjoined others to enforce the law.
Fatou Conteh of Farafenni, Karamo Marong of alkali Kunda and Aja Jajie Bah of Duta Bulu assured of their unflinching support to the ban and called on Women Bureau to intensify the campaign, saying it would inform and educate women on the consequences of violating the ban.
Speakers on the occasion included Sidat Jadama of Kubandar, who called on all stakeholders to intensify the anti-FGM law.
Read Other Articles In Article (Archive)