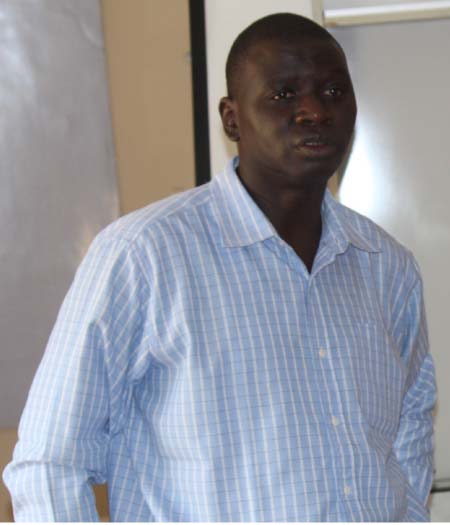 A three-day training course for 20 sports journalists drawn from both print and electronic media is currently under way at the GTMI complex in Kanifing.
Organised by the Sports Journalists Association of The Gambia (SJAG) with the support of its parent body, the Gambia Press Union (GPU), the training exercise will help enhance the work of sports journalists, and make them familiar with the ethics of their job, media law, the new media, among others.
Speaking during the opening ceremony, Musa Sise, 1st vice president of the SJAG thanked GPU for partnering with the association to organise the training course.
According to him, the training session is timely, noting that training was among the top agenda items when the new SJAG executive was elected in September.
"To excel in this trade, you must be trained," Sise said, while reaffirming the SJAG executive's desire to organise many trainings activities for members.
Sise urged the participants to put into practice the knowledge to be gained in order to make the public appreciate their work.
Gibairu Janneh of Gambia Press Union thanked the new executive of SJAG for its commitment and interest in organising training courses for member, resulting in this first training activity.
"Sports reporting is the fastest developing area of journalism in the country. It is important to get the knowledge and to use modern techniques in disseminating information. There is limited knowledge on the ethics and law governing publication and broadcasting," he told participants.
According to Janneh, such training activity will help sports journalists to do the job in a professional manner.
"This training session shall be the beginning of many training courses for journalists. Devote keen attention and time, and engage your resource persons and ask questions."
It is the desire of GPU to elevate standards of Gambian sports journalists, Janneh said, while assuring the participants of GPU's continuing commitment to capacity building, "as journalism is a profession that required knowledge, skills and techniques."
A senior sports journalist, Lamin Cham, said the importance of the training cannot be overemphasised, and thanked the new SJAG executive and GPU for conceiving the idea.
He called on the participants to make maximum use of the training course as practicing sports journalists, noting that such training can go a long way in bringing about good sports journalists. "There is no magic or shortcut in doing the job, but to train and apply the skills."
Read Other Articles In Article (Archive)