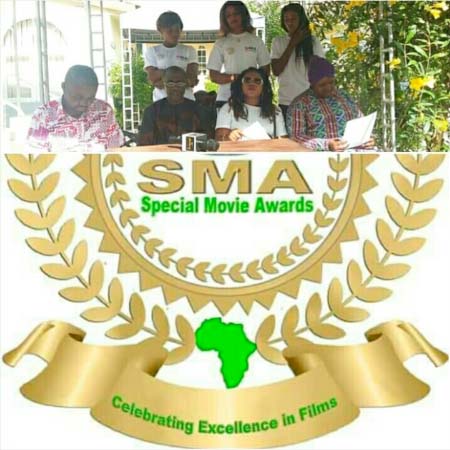 This year's annual special movie awards ceremony is slated for 30 September 2017, according to the special Awards Committee.

This information was revealed in a press conference organised by Afrinity Productions at the Seaview Gardens Hotel in Senegambia on Saturday.
Special Movie Awards (SMA) 2017 will hold tentatively on September 30 in a prestigious location here in The Gambia as an initiative geared towards the common good of film making and film makers in The Gambia as well as actors and actresses.
The first edition of the Special Movie Awards was a great success as the event was graced by ministers, heads of institutions, members of the diplomatic corps, Film Makers, Actors and Actresses, Traditional Rulers and Religious leaders.
Over thirty Film makers in The Gambia participated and submitted thirty-seven films which were screened by a panel of independent Jury for nominations and awards.
Fifteen best awards and ten honorary awards were given on the Award Night last September 2016 at Coco Ocean Resort and Spa.
This year's award ceremony will be co-hosted by Ms. Mercy Konye Osuya. She is the founder and host of D'Gallery TV show; a 30 minute motivational and inspirational television talk show aired every Saturday on the NTA Network and MITV UHF43, Channel 225 on DSTV, 94 on Gotv and 119 on startimes.
The Executive Producers of the Special Movie Awards, Mr. Wilfred Adams, Sheikh Tijan Sonko and Binta Janneh, all of Afrinity Productions expressed confidence that this year's award ceremony will be more exciting and colorful.
The special committee also expressed profound gratitude and thanks to the Ministry of Culture and Tourism, National Centre for Arts and Culture (NCAC), FPAG and other organisations for their support towards the staging of the SMA.
This year's award will consist of seventeen (17) categories with two more which will be newly introduced; Best Comedy and Best Story/ Screenplay. The awards will cover the following:
PERFORMING ARTS CATEGORY
Best Leading Male Actor
Best Leading Female Actress
Best Supporting Male Actor
Best Supporting Female Actress
PRODUCTION CATEGORY
Best Hair/Makeup Artist
Best Customizer
Best Sound
Best Editor
Best Visual Effects
Best Picture
Best Documentary
Best Indigenous Film
Best Short Film
Best Feature Film
Best Director
Best Comedy (Introducing)
Best Story/Screenplay (Introducing)
The second edition of the Special Movie Awards Calendar for 2017 was launched on 6 May 2017, at the premiere of 'Banjul My love' movie.
The motive behind this early announcement is to let film makers, actors and actresses know and be aware of the roadmap to this year's ceremony. The timeline for activities are as follows:
SPECIAL MOVIE AWARDS (SMA) 2017
Unveiling SMA Calendar for 2017 6th May 2017
Movie Submissions Opens 3rd July 2017
Movie Submissions Closes 31st July 2017
Jury Retreat for Movie Screening 1st August- 7th August 2017
Unveiling of SMA 2017 Nominees 7th August 2017
Public Voting Opens 10th August 2017
Public Voting Closes 25th September 2017
Collation of Nomination Results 29th September 2017
Special Movie Awards Night 30th September 2017
Read Other Articles In Article (Archive)