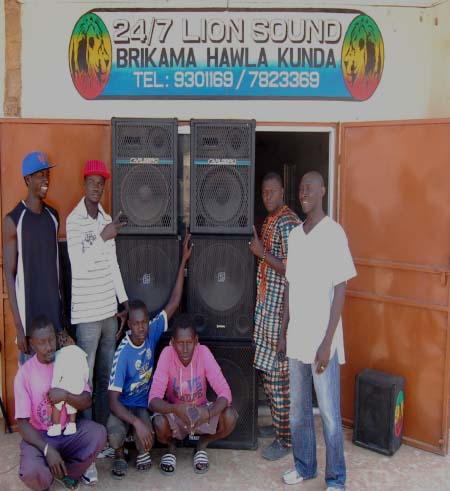 Masta Lion, a Gambian DJ based in Finland and the CEO of 24/7 Lion Sound, is set for Siffoe and Kembujeh shows, as it is a sound system that is established to promote The Gambian Music and entertain the people at maximum level.
Lamin Touray, aka Masta Lion, a Gambian DJ based in Finland, Helsinki, who also doubles as the CEO of Masta Lion Promotions based in Finland, noted that  the Sound System is out to promote Gambian music and other continental songs as well as entertaining the people with superb melodies.
"Recruiting upcoming DJs or Selectas is one of the main priorities of the Sound System for them to have first-hand information on how to operate as DJs and Selects," he said.
According to him, the Friday Siffoe and Saturday Kembujeh Shows are part of his shows that are aimed at raising funds for the Lion Stars FC of Kembujeh and Siffoe FC as well as to introduce the System to the Community of Brikama and The Gambia as a whole.
The launching of the System was done on 7 March 2014 at the Brikama GET 7 Night Club, which featured Gambian reggae and dancehall stars Benjamin and the Frontline Soldiers, he said.
He further informed Point Entertainment and Lifestyle that The Gambia is blessed with many talents in music; all they need is promotion and introduction, saying that the 24/7 Lion Sound System will collaborate with the upcoming artistes, DJs, Selectas, Promoters and other concerned parties in the music arena to promote the Gambian music and other continental music at all time.
DJ Aladin, who also doubles as the manager of the Sound System, said the System is ready to work with every Gambian to promote the Gambian music and other sounds.
He thanked the CEO of the Sound System for his focus and vision in establishing the System, saying it is serving as a source of income and employment for the employees with the Sound System.
"Music is another foundation of income generating avenue for the young unemployed youth; so with the coming of the Sound System, we can also benefit from its wisdom and revenue as employees,'' he said. 
He promised their fans and the general public of their readiness to work for the betterment of the partnership with their fans at all times as they can't register any real success in the absence of their fans and well-wishers.
DJ Nelly, another uprising DJ in Brikama, also said they would do all their best to entertain the people as business means satisfying the people you are dealing with.
The Sound System, according to him, is just new in the business, but they would make effort to establish a cordial relationship with the people to become one of the best in town and the entire West Coast Region.
Read Other Articles In Article (Archive)