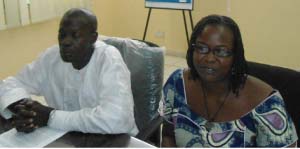 More than 24,000 children under the age of five die every day mainly from preventable diseases worldwide, the UNICEF office in Banjul has said.
Sally Sadie Singhateh, the communications specialist at the office, told journalists last Thursday at a press conference marking World Breastfeeding Week that exclusive breast-feeding for the first six months of a child can help prevent such diseases.
"Over the years, UNICEF has promoted its strategy for infant and young child feeding based on the declaration which calls for the protection, promotion and support for young child survival," she said.
According to her, the strategy includes targets such as awareness creation, providing guidance on breast-feeding, and getting support from all sectors to encourage two years or more of breast-feeding, timely and appropriate complementary feeding, and the relevant policies and legislation which governments put in place in support of exclusive breast-feeding.
While underscoring the significance of World Breast-feeding Week, Sally said it is very important that relevant messages reach the entire population, especially those in the hardest communities to reach and those who are marginalized.
This year's the theme for the celebration: "Talk to me! Breastfeeding – A 3D Experience" is, among others, aimed at encouraging the news media to reach larger numbers of people with breast-feeding information; creating and increasing communication channels between different sectors so that breast-feeding information and feedback can be assessed and enhanced.
She told journalists that UNICEF would continue to work with the government and the National Nutrition Agency in implementing community-based communication interventions to promote breast-feeding.
"UNICEF will support advocacy efforts, as well as continue to leverage resources to ensure that the nutritional requirement of children and women in The Gambia is realized," she continued.
Ms Singateh urged the media to complement their efforts by effectively using the information received, and research more to inform the public accurately about the importance of talking about breast-feeding.
Also speaking at the press conference was the Executive Director of the National Nutrition Agency, Modou Cheyassin Phall, who recalled that August 1st every year marks the beginning of the celebration of World Breast-feeding Week observed throughout the world.
He said this year's celebration seeks to underscore the importance of communication at various levels and between various sectors, using different and innovative approaches.
"It also seeks for collaboration among some of the breast-feeding movement's newest faces along with several veteran champions. This implies that the media fraternity with its wider audience and advanced technology has a greater role in the celebration of this year's theme," he told journalists.
Amat Bah, deputy director of NaNA underscored the importance of breast-feeding, while Malang Fofana, programme manager of NaNA gave a power point presentation on breast-feeding.
Read Other Articles In Article (Archive)