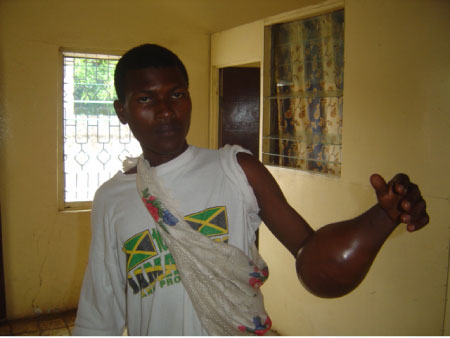 Alpha M. Barry, a 24-year-old man of Brikama Nyambai in the West Coast Region of The Gambia, is seeking support from the Gambian President, the private sector, NGOs, philanthropists and other individuals to go for overseas operation.
A medical report on Alpha Barry issued by the Royal Victoria Teaching Hospital (RVTH) states that Barry was apparently healthy until a year ago when he started noticing a swelling in his left arm.
"This started small but has progressively been increasing in size and is associated with pain," the report states.
Barry, who walked into The Point offices yesterday with his mother and stepmother, said he is a student of Kinder Dorp Bottrop Technical School and should have sat to the West African Senior Secondary School Certificate Examinations this year but due to his ailment he could not.
"I need urgent help from anyone who can help me, to undergo this operation overseas because my hand cannot be operated on here [in The Gambia] and the doctor has told me that if it continues to swell as it is progressing, it will break my bones and my hand will be cut off," Barry explained his ordeal.
"I am appealing to the President of the Republic of The Gambia and anyone who can help to come to my aid so I can go for this operation overseas and come back to complete my education," he added.
Jainaba Bah, mother to the patient, said they just saw the hand swollen one day and when they took the boy to the hospital they were told the hand "cannot be operated on in The Gambia". "We don't have the means to facilitate an overseas trip and operation for the boy; therefore we are appealing to anyone who can support my son to come to our aid, for him to go for overseas operation and come back to continue his education," Barry's mother pleads.
"We are desperately in need of help and are appealing to anyone for support so that Alpha can be relieved of this pain because his swollen hand has really disturbed him a lot," said the patient's stepmother, Lala Hydara.
Anyone who would like to give a helping hand to Alpha Barry can call the following numbers for further details: 6175813, 7964821, 7068763, 7390082 or 6810027.
Read Other Articles In Article (Archive)