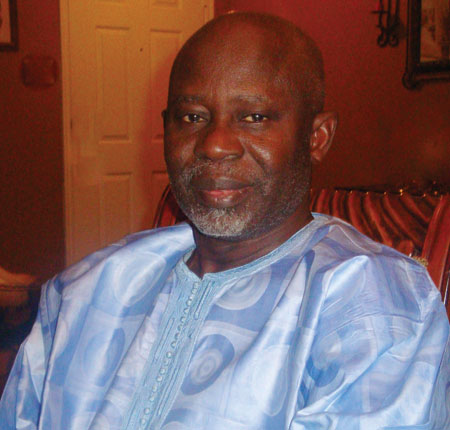 As the race for the 2011 presidential election draws near, the leader of the opposition United Democratic Party, Lawyer Ousainou Darboe, has asserted that the forthcoming elections will be a defining moment for the future of The Gambia.
"These coming elections will be very defining for the future of this country, because people are talking of having a monarch in this country and, if they do not exercise their right to vote and vote rightly, then they will succeed in establishing a monarchy in this country," Darboe said in an interview with this reporter yesterday.
According to the UDP leader, Gambians should never allow themselves to be weakened by situations, noting that if they allow the 2011 elections to slip through their hands, this country will be doomed forever.
"The announcement by the Independent Electoral Commission concerning the date of the Presidential, National Assembly and Local Government Elections is not a surprise to the UDP, and I do not think it is a surprise to any of the political parties," he said, adding that the announcement is not strange as, traditionally, elections in this country are held between September and November.
"So this is really helpful to us although December would have been a better month," Darboe continued.
The UDP told this reporter that his party is fully prepared for the coming elections, adding that the opposition party has a team upcountry currently working on recruiting agents for the upcoming voter registration exercise.
"We are getting formidable agents, well-informed agents, and this is part of our preparations for the 2011 presidential elections," he further stated.
"Our agenda is certainly captured in our slogan "Sunu Rewme Noyko Mom," a Wollof saying meaning "We own our country".
We want to take charge of the education system of the country, put it on a very sound footing so that those who leave Grade 12 would be considered fairly educated.
We want to have a healthy society, a well-fed and informed society, and this can only become a reality when you have a responsible and responsive government," he declared.
Noting that the UDP is out to alleviate poverty, Darboe added that his party would find remedies to increases in transport fares which do not reflect the earning capacity of the average Gambian.
The UDP is looking forward to forging an opposition alliance that can make change, come the 2011 elections, according to Darboe.
"I hope that no single opposition party will be in a situation where it will contest elections on its own; we hope that all the parties will come together, and then contest elections," Darboe added. 
The opposition leader called on Gambians of voting age to register during the forthcoming voter registration exercise, so as to have a say in the government they elect.
"It is of no use criticizing a government that you have not voted for or opt not to vote for, because even if you vote for the opposition, you are still taking part in the electoral process and determining who should be in charge of the affairs of this country. But if you do not register or vote when you are supposed to, you have no right to say anything about the happenings in the society," he opined.
In his view, it is those who refuse to vote during elections who cause the election of "bad government officials", urging Gambians not to compromise their sovereign rights as citizens of this country who should determine or take part in determining the future of this country.
Stating that he will never be put down, by what he called past bitter experiences, the UDP leader told The Point that it is those past bitter experiences that help the UDP to look into the future with optimism.
Asked about the importance of allowing Gambians in the Diaspora to vote during the elections, Darboe stated that these people must be allowed voting rights, as they are contributing immensely to the development of this country in the form of remittances.
"These people should have a say in their government entrusted with the responsibility to take charge of the affairs of this country," Darboe said.
Read Other Articles In Article (Archive)