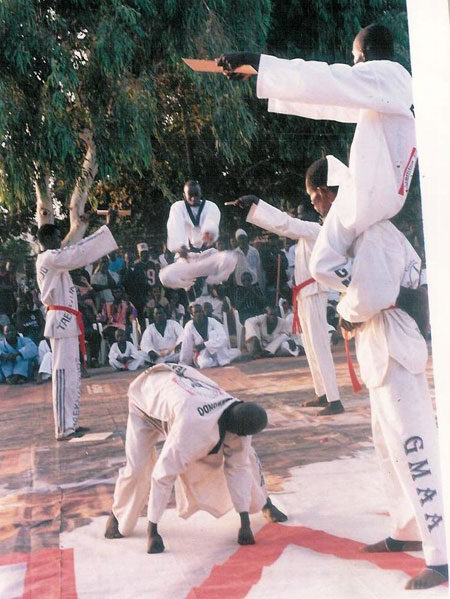 An exuberant classic belt grading was organised by the leading Martial Arts promoter in the country, the Gambia Martial Arts and Self- Defense Academy on October 4th 2009, at the B.O Semega Janneh Hall.
According to the Chief Instructor of the Taekwondo Club Master Basiru Choi, 18 students took part in the grading, out of which 5 moved from Yellow Belt to Orange Belt and 13 students moved from White to Yellow Belt.
"These students were tested one month prior to the scheduled date, according to the standards of the Kukkiwon and the World Taekwondo Federation (WTF).We made it open to show transparency and let the people know that the academy is operating within standards," said Master Choi.
When asked about the purpose of the grading, Yorro Njie, the Coordinator and Programme Officer of Karate in Serrekunda East, explained that it was a promotional test that assesses students who have undergone intensive four months technical training.
He said "These regulations also provide the procedures of carrying out all levels of tests in accordance with the Kukkiwon (World Taekwondo Headquarters), which is aimed at spreading the rationalised Taekwondo techniques and standardising its practice in The Gambia."
According to him, this is what The Gambia needs if they want to rub their shoulders with outsiders in all aspects of Martial Arts, particularly Taekwondo (TKD).
Yerrow appealed to the Gambia Taekwondo Association to play their part in the development of TKD, and to come up with programmes and championships that will enhance the enlistment of TKD in The Gambia.
"Since I started Martial Arts in 1998, I am yet to see more programmes organised by the Gambia Taekwondo Association.  We have to know that all National Federations/Associations belong to The Gambia and nobody has to claim ownership over any National Federation/Association. Let us work together to promote Taekwondo in The Gambia and know that we are partners in development and not to be seen as rivals," he stated.
The practical promotional techniques test involved the followings:  Poomse (Forms), Kyorugi (Sparring), Kyokpa (Breaking) Power check and Special Techniques
There were some demonstrations by the members of the academy, like Vovinam Viet VO Dao, Karate and Taekwondo, respectively.
Master Danso demonstrated Kata, while Master Mamoud Njie and Master Choi entertained the gathering with their incredible acrobatic exhibitions.
Among the youngest students that caught the eyes of the crowd were Awa Sanneh and Momodou Lamin Mbye. The young martial artists are deemed to be the future champions of The Gambia. They demonstrated a high level of confidence and techniques that really took the crowd by surprise.
The closing remark was delivered by the 1st Vice-President of Serre Kunda East Sports Development Organisation, Mr. Saihou Bah, after issuance of certificate of achievements to deserving students.
Read Other Articles In Article (Archive)