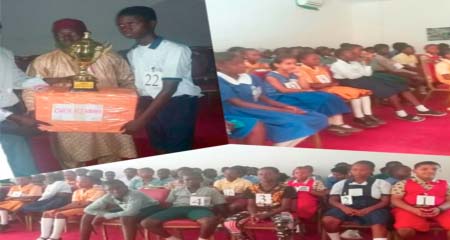 A 14-year-old student from Kings Academy in Lamin village has won the annual TAKE-M National Lower Basic Schools Spelling Bee competition held on Saturday, at the Joint Officers Mess in Kotu.

The spelling bee was aimed at building a network of young people who will act as peer mentors for other students and play a key role in supporting the academic growth of students, especially in the areas of reading comprehension and spelling.
The 3rd Edition of the competition, hosted by the Yundum Barracks Basic Cycle School, was contested for by more than 64 students in all regions of the country.
The founder and organiser of the spelling bee, Mr. Tunde Muyi Ogundimu, said they organised the competition annually to educate students and improve their reading and comprehension skills, especially in the area of spelling.
He promised to keep up the momentum and encouraged all to support in one way or the other towards the successful staging of the annual event.
Mr Tunde expressed profound gratitude to his partners such as the National Library, GAF, Unique Solutions, Enterprise Life, GTSC and regional offices countrywide for their cooperation and solidarity towards the success of this year's competition.
Kebba Njie, the winner from King's Academy in Lamin Village, said he was very proud and elated to have emerged as the winner after a hard-fought contest.
He said he put up a lot of effort and hard work to prepare for the academic competition.
''My father used to wake me up every day at 4am to study,'' he said.
Omar Nyass, the chief judge, who is also an education officer and cluster monitor, said he was impressed with the pupils, saying they performed beyond expectation.
He said they are hoping it will be extended to a bigger, national quiz event with even more varied subjects like mathematics and French.
The deputy CEO of GAF education, Augustus Mendy, said the main objective of the academic event was to instill the culture of reading and writing in children in order to improve their understanding and grasp of the language at the grassroots level.
He pointed out that they are embarking on making the GAF a one-stop-shop of educational integrity; contributing towards the promotion of education in the country.
''We want to help the government in its drive to improve education in the country,'' he said.
Mr Mendy advised the pupils to be more focused and determined in their future.
GAF Education was established in 2008, the brainchild of Warrant Officer, Class 1 Tijan Bah and Warrant Officer, Class 1 Augustus Mendy, who felt that bringing education to the children of soldiers, was paramount.
It is hoped that the Educational Establishment known as GAF Education will raise the standards and set the parameters of professionalism within The Gambia Armed Forces.
Yumdum Barracks Basic Cycle School is comprised of nursery and upper levels and, according to the principal of the school, they are looking to introduce Senior Secondary Education.
Read Other Articles In Article (Archive)