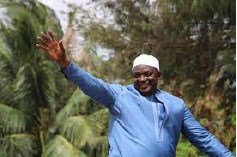 After a thorough examination of President Adama Barrow's development trajectory under a very complicated coalition government marred by betrayals, saboteurs and a treasonous mob masked in democratic costumes, I argue that there are very compelling reasons to re-elect Adama Barrow as Gambia's President come the 4th December Presidential election.
Below is a summarised list of Mr. Barrow's stellar performance in the last five years having inherited a decimated and bankrupt economy that couldn't pay beyond a month's salary. How Barrow, who ascended to the Presidency with no prior governance experience progressed so fast is testimony to his genius and good intentions for The Gambia.
Below, I present my case for Gambians to give Mr Barrow another five-year mandate to complete his remarkable development projects that cut across the spectrum. In the short time of his presidency, Mr Barrow has his signature unveiled across the entire landscape with bridges, roads, power plants, water projects, ambulances, clinics, tractors, agricultural subsidies and many, many more that are often under reported.
When Barrow assumed office in June 2017 Nawec was a bankrupt institution owing Billions of dalasis locally and internationally. Two years later, the company was sanitized and put on a road map.
During the past 5 years about 10 major multi-million-dollar projects totalling close to $400million dollars or about D20 billion dalasis have been invested into electricity and water; making it the biggest investment ever in that sector in 5yrs
Between 2017 and 2021 total electricity Installed Capacity increased to about 35% while Available Mega Watts (MW) increased to nearly 50%
The World Bank has identified The Gambia as one of only 4 African Countries poised to achieve universal access to Electricity by 2025
Renewable energy, a mixture of solar, wind, hydro and hydrogen power, is an important part of the road map. A 20mw Solar Plant in Jambur is set for construction, and another 150MW Solar Plant is slated for Soma. Wind Farms are likewise in the pipeline, and the OMVG (a hydro power project shared with Senegal, Guinea Bissau and Conakry), is set to bring over 70MG to Gambia when connected to the grid by end of December 2021, finally bringing close to 24hrs electricity supply to The Gambia.
A $22 million dollar water project has been completed while another $22 million dollar project comprising of a distribution network; boreholes, water treatment plants, and medium voltage lines is set to commence.
Within the next two years, The Gambia will finally have excess power in the grid; restore and modernize the transmission and distribution lines; and inter connect with the entire subregion, making it possible to trade energy.
BARROW'S FIVE YEARS ON GOVERNANCE
From Jan 2017 to date, Gambians have enjoyed unprecedented freedom and liberties perhaps equaling or exceeding the U.S.
President Barrow adhered to The Rule Of Law and Due Process, to the point that he would not not only accept judgements against him or his government, but he implements them as well.
President Barrow subscribes to the Separation Of Powers and checks and Balances. Both the Judiciary and Legislature are 100% independent, and check on the excesses of the Executive/Government.
President Barrow not only allowed a free press, he promoted it by issuing over 18 Licences for Private Radio, and 5 licences for Private Television. He also signed the Information Bill into law (allowing everyone access to information), and removed the oppressive taxes imposed on the media.
His respect for democracy, freedom, and Human rights has earned him many awards, and despite being a rookie president, Barrow was recently rated No.3 Best African President on democratic governance.
President Barrow is so keen on Human Rights that he established the Human Rights Commission, the first of its kind in The Gambia!
President Barrow helped to liberate all Gambians from the excesses of power and fear of victimization.
President Barrow is an extremely tolerant and non-vindictive leader.
President Barrow is a contented leader, which is why he DOES NOT steal or waste state resources.
President Barrow is a State Manager who DOES NOT micro-manage the state machinery.
Therefore, on 4th December 2021, vote Barrow, NPP!! to continue to enjoy Democracy, Stability and Progress…
Read Other Articles In Opinion