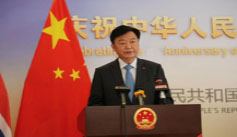 The upcoming 1st of October marks the 72nd anniversary of the founding of the People's Republic of China. On this occasion, on behalf of the Chinese Embassy, I would like to extend warm greetings to all friends and compatriots in The Gambia, and express sincere gratitude to friends caring for China's development in The Gambia and across the world.
72 years: an arduous path toward prosperity
On the 1st of October 1949, Chairman Mao Zedong solemnly declared in Beijing to the world that the People's Republic of China was founded, and that the Chinese people had stood up from then on. This great event put a complete end to China's century-long misery of poverty, underdevelopment, and humiliation of being bullied by foreign forces. Since then, the Chinese nation has embarked on the great path of national rejuvenation.
The past 72 years witnessed the Chinese people's arduous strive for national development under the leadership of the Communist Party of China. It also witnessed great changes of the country, as well as a significant improvement of Chinese people's livelihood.
The year 2021 marks the 100th anniversary of the founding of the Communist Party of China. At the grand celebration of the Party's centenary held on 1st July, Chinese President H.E. Xi Jinping, who is also the Secretary General of the Party's Central Committee, announced that we had realized the first centenary goal of building a moderately prosperous society in all respects, bringing about a historic resolution to the problem of absolute poverty in China, and that we were marching in confident strides toward the second centenary goal of building China into a great modern socialist country in all respects.
2021: a year of fruitful progress amid challenges
The year 2021 marks the beginning of China's 14th Five-Year Plan. Facing profound changes unseen in a century intertwined with the ongoing global pandemic, China keeps on striving forward despite tremendous challenges, and has been continuously making new progress in socio-economic development.
In 2021, China continues to do well in COVID-19 prevention and control. Based on the already-made progress in fighting the pandemic, China maintained constant vigilance against resurgences, and took prompt measures to address relevant emergencies. China also made significant progress in developing COVID-19 vaccines, and accelerated nationwide free inoculation, making every effort to protect the lives and health of the people.
In 2021, China's economy recovers at a steady pace, demonstrating strong resilience and huge potential. In the first half of the year, China's year-on-year GDP growth rate reached 12.7 percent, and the total value of China's import and export of goods increased by 27.1 percent compared with the same period of last year. China's economic structure has been further optimized, with great vitality of innovation unleashed. China's economy is now stepping onto the track of higher-quality development.
In 2021, Chinese people's livelihood continues being improved. The first half of the year witnessed a 12 percent year-on-year increase of per capita disposable income of Chinese residents. Seven million urban residents were newly employed over the same period. China has achieved a complete victory in fighting against poverty, completing the extraordinary work of eliminating absolute poverty nationwide, creating yet another great miracle recorded in history!
In 2021, we constantly hear good news on China's scientific and technological innovation progress. China opened the world's largest radio telescope up to international scientists, sharing its cutting-edge infrastructure in exploring the space. China has successfully landed a spacecraft on Mars, making a first step in its planetary exploration of the solar system. China has also sent and brought back three astronauts through manned spaceship to the space station for a three-month mission there. Besides, China continues to make rapid progress in developing 5G information technology, transforming toward an intelligent manufacturing system, and continuously injecting new impetus into its digital economy development.
Join hands toward a brighter shared future
At present, the world is still suffering from the havoc of COVID-19. In the face of the pandemic, no country can make itself an unaffected retreat, and no country should be left behind in the global fight against the pandemic. "We must always put our people and their lives front and center. We must mobilize necessary resources, stick together in collaboration, and do whatever it takes to protect people's lives and health and minimize the fallout of COVID-19", President Xi Jinping stated at the Extraordinary China-Africa Summit on Solidarity against COVID-19. China always honors its promise with concrete action, and has been advocating for making vaccines a global public good and ensuring fair and equitable distribution of vaccines globally, as vaccination is the powerful weapon against COVID-19. On 21st September, at the general debate of the 76th Session of the United Nations General Assembly, President Xi Jinping announced that "China will strive to provide a total of two billion doses of vaccines to the world by the end of this year. In addition to donating 100 million US dollars to COVAX, China will donate 100 million doses of vaccines to other developing countries in the course of this year".President Xi Jinpingproposed a Global Development Initiativewith the aim to revitalize the economy, pursue more robust, greener and more balanced global development, and work together to steer global development toward a new stage of balanced, coordinated and inclusive growth. China has pledged an additional three billion US dollars of international assistance in the next three years to support developing countries in responding to COVID-19 and promoting economic and social recovery.
Chinese people have long been pursuing the building of an ideal world of harmony for all, advocating for solidarity among all nations and peoples. China calls on all countries to work together to jointly build a community with a shared future for mankind, and to create an open, inclusive, clean and beautiful world that enjoys lasting peace, universal security and common prosperity.
Enhancing unity and cooperation with Africa has always been high on China's diplomatic agenda. Despite rapid changes in the international landscape, China-Africa friendship has remained rock-solid and as strong as ever. China believes that development is the foundation and the key to resolving all issues, and that it is the shared responsibility of the international community to support Africa's development. In May 2021, China and Africa jointly launched the Initiative on Partnership for Africa's Development, calling on the international community to render stronger support to Africa, so as to help Africa tide over difficulties and make strides forward.
China and The Gambia are good friends and partners. Since the outbreak of COVID-19, we have been standing together and jointly overcoming difficulties. To support The Gambia's efforts in fighting the pandemic, China dispatched a team of experts on epidemic control and prevention to The Gambia to provide technical assistance, and has donated over ten consignments of urgently-needed medical supplies to The Gambia. Doctors of the China Medical Team worked shoulder to shoulder with their Gambian peers in the front line of fighting the pandemic, making great contribution in curbing the spread of the coronavirus in The Gambia. These touching moments elevated the China-Gambia friendship to a new high.
In the past year, major China-Gambia cooperation projects have made remarkable progress and achieved fruitful outcomes, in spite of the challenges brought about by COVID-19. The China-aid URR Roads and Bridges project will soon be officially inaugurated and put into use. As H.E. President Adama Barrow once said, completion of this project will fulfill local people's century-long dream! The China-Gambia technical cooperation in agriculture has made significant breakthroughs. The Chinese experts have successfully cultivated highly-productive hybrid rice varieties suitable for the Gambian climate, providing strong support to the efforts of The Gambia to realize food self-sufficiency! In the past year or so, the China-aid Sir Dawda Kairaba Jawara International Conference Center has become a key venue for important events in The Gambia. In addition, exchanges have been deepened between the top legislatures, political parties, media and academia of our two countries, promoting the China-Gambia friendship in various dimensions.
A new session of the Forum on China-Africa Cooperation (FOCAC) meeting will be held by the end of this year. China will take this important opportunity to coordinate with African partners including The Gambia in making a road-map for our future cooperation in strengthening Africa's public health governance, building capacity for Africa's self-generated development, integrating Africa into the trend of economic globalization, and improving the people's well-being. Let us stand together, and jointly build a China-Africa community with a shared future!
Long live China-Gambia friendship!
Read Other Articles In Opinion