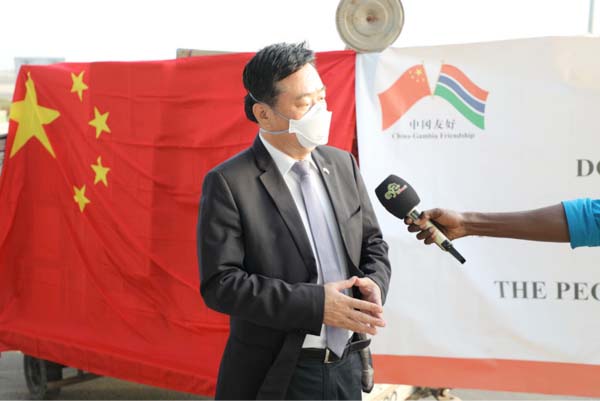 Just the day before yesterday, April 20, I attended a handover ceremony of medical supplies from the Chinese government at Banjul International Airport with Foreign Minister Hon. Mamadou Tangara and Health Minister Hon. Ahmadou Samateh. The medical supplies, the third consignment of its kind offered to The Gambia within the past two months, consist of much-needed face masks, protective clothing, gloves and forehead thermometers, etc. In the remarks, Hon. Tangara and me myself held the view that the aid could not be coming in a better and more timely manner, reiterated the firm resolve and commitment from both sides to work more closely with each other and the international community in this ongoing global war against COVID-19. It's worth noting that same batches have been equally offered to other 17 countries in central and west Africa as well. We believe that these provisions is yet another symbol of the much cherished friendship between peoples of China, The Gambia and Africa at large.
Some Gambian friends recently sent congratulations to me and my colleagues at the Embassy on China's massive progress in battling against COVID-19. I thanked them for such kind words as from family members, and would usually take the opportunity to brief the latest developments. After more than two months of strenuous efforts, China emerged as one of the first countries to stem the outbreak. New cases in China have been sporadic for a month now. Travel restrictions in Hubei and Wuhan, epicenter of the pandemic, have been lifted and entering a reset mode. And domestic transmission has been largely stamped out. While battling the outbreak, China has managed to restore its economy and society step by step to a normal order. The early economic reopening of "the world's factory" has significantly eased the strained global medical supplies. It will also help bring the world economy back to normal at an early date.
As COVID-19 continues to rage through the world and the combat against the coronavirus is at a critical stage, this undoubtedly brings a glimpse of hope for the global battle. These important periodic results could only be achieved under the strong leadership of the Communist Party of China and the Chinese government, and with tremendous sacrifice by 1.4 billion Chinese people united together. However, we should be fully aware that we are far from winning the battle. China is under rising pressure of guarding against imported cases and preventing a resurgence of the outbreak at home. New difficulties and challenges have emerged for China's work resumption and economic and social development. There is no way we will lower our guard or relax control.
China and Africa are sincere and mutually-reliable friends, partners and brothers. We have long been supporting and helping each other especially at trying times in history. Memories on jointly fighting against Ebola in 2014 are still fresh for many Africans and Chinese. At that time, Chinese personnel were the first to offer help against all odds. When many countries were evacuating their staff, Chinese diplomats and medical experts chose to stay. President Xi Jinping announced that China would offer four rounds of aid to countries in the outbreak epicenter. China also actively supported international organizations such as the UN and WHO to fight against the outbreak.
Six years later, China and Africa once again come to a testing time which calls for our brotherly unity and cooperation. Since the outbreak of COVID-19 in China, leaders of African countries and regional organizations have been voicing and providing support for us in various ways. President Adama Barrow conveyed his sympathy and solidarity with President Xi Jinping and the Chinese people at very early time. Health Ministers' meeting at ECOWAS and AU levels expressed solidarity with the Chinese government and people as well. Many African governments, companies and civil organizations offered assistance to China. Gambian friends from all walks of life have been standing with us in forms of audiences, letters and phone calls, etc. This brought in a lot of courage and confidence, fully demonstrates our brotherly friendship through thick and thin, which will always be remembered and cherished.
It is a common belief among the Chinese people that one shall always return even the slightest favor he receives when in trouble. Although fighting the coronavirus in China remains a formidable task, China is now extending helping hands to countries around the globe that are struggling against the pandemic, to the best of its capability. The Chinese government, enterprises, entrepreneurs and civil organizations have been sending many shipments of urgently needed medical supplies to over 140 countries and international organizations. We have delivered batches of testing kits to African countries via Africa CDC and emergency supplies to countries affected. Just on 16 April, as requested by the WHO and AU, China sent two medical experts teams respectively to Ethiopia and Burkina Faso, which turns out to be the newest good gesture from the Chinese side. Chinese health experts held in-depth video conferences with their African counterparts as well as officials of African countries and Africa CDC, sharing experience of containing the coronavirus. Chinese medical teams residing in Africa are assisting the continent in fighting the pandemic. Chinese enterprises and civil organizations also donated urgently needed supplies. Gambian friends would recall that receiving ceremonies of two batches of medical provisions by China's Jack Ma Foundation and Alibaba Foundation were held respectively on 28 Mrach and 21 April. And the Chinese government has just decided to offer another new batch of emergency medical supplies for more African countries including The Gambia in the next phase.
Helping the rest of the world including Africa at their requests is one way to repay the kindness and help make it through. It is also in line with international humanitarianism and the vision advocated by President Xi Jinping of building a community with a shared future for mankind. China would never stand by and leave its friends in difficulty. The help China offers does not involve any selfish interest.
As President Xi Jinping pointed out, it is unity and cooperation could be the strongest weapon in defeating COVID-19 for the whole international community. The ongoing battle is a living proof of how much we all belong to a community with a shared future. It is a time for us to strengthen confidence and take concrete actions in a responsible manner, respect science and facts, and address the challenge with solidarity and collaboration. Nevertheless, a global "misinfo-demic" has been spreading, as UN Secretary-General Antonio Guterres rightly said. Some forces with ulterior political motives are sparing no efforts in spreading lies and stigmatizing China on its containing efforts, foreign assistance, China-Africa friendship by hyping up so-called "maltreatment of Africans in China's Guangzhou city", etc. These false and willful accusations are not worth refuting at all but to be vigilant and guarded against. People would not deny that it has become a common voice and consensus in the international community to reject any attempt at labeling the virus, politicizing the response, and stigmatizing any specific country.
Alongside the beach outside of the Chinese Embassy's premise at Bijilo TDA, happy dancing, physical exercising and family gathering by local friends or tourists especially at the weekends could always be seen. It's somewhat frustrating that such gatherings are becoming rare ever since COVID-19 outbreak. In fact, similar things are happening around more public places involving hundreds of thousands of families in Africa and the world. But we are relieved to notice that the Gambian government and people, under strong leadership of President Adam Barrow, have been devoting to the battle against COVID-19 and unified more that ever. A series of measures are working fairly well, and the spread of the coronavirus has not led to any overwhelming situation. I am deeply moved by such solidarity and courage demonstrated by people of the smiling coast of Africa, which I assume shall be epitomes of the whole African continent as well.
Ramadan is coming just on Thursday. I would extend the best wishes to all Gambian Muslims. Ramadan Mubarak! There will be a day when the outbreak is over and mankind prevail. I have no doubt for a moment that while jointly battling against the epidemic, China-Africa friendship will be taken.
Read Other Articles In Opinion