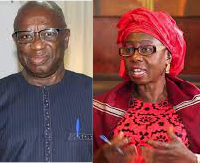 The first to appear before legislators was VP Touray. During her appearance, she was asked by National Assembly Member (NAM) for Serrekunda, Hon Halifa Sallah to update the Assembly with the figures regarding the number of civil servants working in government.
In response, she said that the Public Service of the Gambia, as per Section 166 of the 1997 Constitution comprises the Civil Service and all other government institutions, such as armed and security forces, agencies, the Legislature, Judiciary, State-Owned Enterprises and Municipal and Area Councils.
"Considering the scope and the fact that these various public service institutions are under various line ministries, it will require more time to gather the necessary information regarding the number of people currently employed in Public Service."
However, she informed the Assembly that the number currently stands at 43,000 as at 28th January, 2022.
Hon. Lamin F.M. Conta, NAM for Kombo East, urged Works Minister Bai Lamin Jobe to shed light on the delay of the construction of 400 kilometer road linking Giboroh to Faraba Sutu.
In response, Minister Jobe said that the road linking Giboroh via Saloum to Faraba Sutu will be constructed together with Brikama and Mandinary in the 2022/2023 maintenance programme through the same funding.
The Works Minister also gave an update on the construction of the road linking Tinkinjo, Kiss Kiss, Kulkulleh, Sanunding, Dandu, Keneba, Kungkundi, Sare Mamadi, Madina Samako and up to Diabugu Ba Sillah as asked by Hon. Fodey N.M. Drammeh of Tumana Constituency.
Read Other Articles In Headlines